In the 1960's the American music scene was dominated by the so-called "British Invasion." Throughout the second half of the decade, groups like The Beatles, The Rolling Stones, Herman's Hermits and The Animals took America by storm on The Ed Sullivan Show. At the same time a number of talented American groups responded, presenting their own sound and style on The Ed Sullivan Show stage. The Lovin' Spoonful was one of them, and this year, January 22, will mark the 45th anniversary of the band's debut on The Ed Sullivan Show.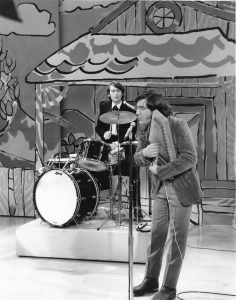 On January 22nd 1967, The Lovin' Spoonful appeared on The Ed Sullivan Show for the first time. They kicked off the evening performing their hit: "Nashville Cats," in which band leader John Sebastian played the autoharp accompanied by the band [Zalman Yanovsky (guitar), Steve Boone (bass), and Joe Butler (drums)] on a farmhouse set. Then, along with the backing of The Sullivan Orchestra, they performed "Darlin' Be Home Soon." With a unique combination of folk, rock n' roll, pop and country, The Lovin' Spoonful charmed the national audience that night and the show's ratings were great.  The group was such a hit they were invited back to the show for a total of 3 performances that year.  It was during The Lovin' Spoonful's second appearance on the show on March 19, 1967, that band had the memorable performance of their best-known song "Do You Believe in Magic."
During the 1960's, The Lovin' Spoonful was able to separate themselves from the groups of The British Invasion with their distinctive style and sound. In an interview, John Sebastian recalled that challenge along with his experience playing The Ed Sullivan Show:
"We didn't fit in with this mold of four mop tops very well. People kind of expected us to imitate the The Beatles in a lot a ways that we didn't. But Ed Sullivan was the first guy who got it. He got it immediately. He heard our song, he said, 'Here's an American group with an American sound.' And he was so proud, you know, in his own way. I could see that he was excited to present this American thing that also made girls scream and disrupt his show."
For a great collection of rock n roll performances from the 1960's, including The Lovin' Spoonful on Ed Sullivan, be sure to check out Ed Sullivan Presents: Rock n Roll Revolution.