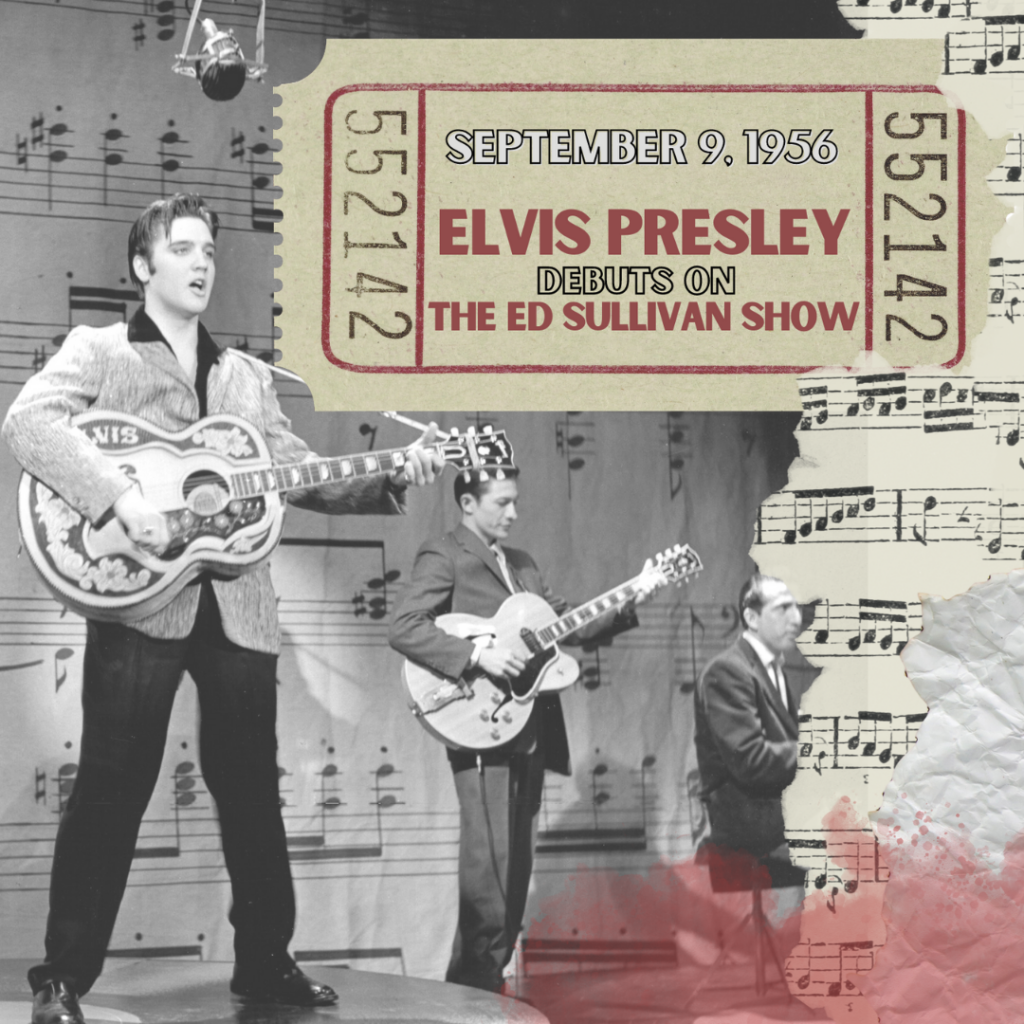 Written by: Billy Altman
On Monday, July 2, 1956, Ed Sullivan sent off a telegram to Steve Allen, the Tonight Show host who had recently been given an additional weekend comedy/variety program to try and break impresario Sullivan's dominance over the Sunday 8-9 PM time slot. The previous night, Allen had trounced Sullivan in the ratings, and the reason could be explained in just two words: Elvis Presley. While Sullivan had been reluctant to book the 21-year-old singing sensation due to his hip-swinging, sexually charged performing style, rival NBC had taken advantage of the controversy that Presley had generated bumping and grinding his way through "Hound Dog" just a few weeks earlier on the Milton Berle Show by quickly booking him for Allen's program. There, outfitted in full tuxedo and tails, a "chastened" Elvis stood perfectly still and sang the tune to an actual basset hound wearing a top hat. The gimmick worked, and even Sullivan had to admit it – which he did the next day via a brief missive, which read simply, "To Steven Presley Allen, NBC TV, New York City. Stinker. Love and Kisses, Ed Sullivan."
For the ever-competitive Sullivan, seeing Allen get the goods on him, even for a week, was a call to arms, and it wasn't long before he was in negotiations with Presley's tight-fisted manager, "Col." Tom Parker, to get Elvis lined up to appear on his show. Knowing he had the upper hand, Parker played hardball, and what emerged was a deal for three appearances, spread over several months, for what was then an astronomical figure of $50,000. Arrangements were made for Presley to make his Sullivan debut on the night of September 9, but then fate stepped in and shuffled the deck so that Presley's performance took two unexpected turns.
For all the mythology surrounding Elvis Presley's historic debut appearance on the Ed Sullivan Show that September night in '56, it usually comes as a surprise to most people to find out two interesting facts about that remarkable moment in 20th-century American popular culture: First, Ed Sullivan wasn't even the host of his own program that night. Several weeks before, he had been in a horrific auto accident on a Connecticut road when another car crashed head-on into the one he was riding in with his son-in-law Bob Precht, leaving Sullivan with a fractured rib and chest and facial bruises and Precht with a broken arm and ankle. As a result, the still-recuperating Sullivan was unable to attend the program, and hosting duties fell that evening to British actor Charles Laughton. Second, even if Sullivan had fully recovered, he wouldn't have been able to take in Presley's performance in person from his show's home base theater in New York because Elvis' appearance was instead broadcast from a CBS Television City soundstage some 3,000 miles away in Los Angeles, where the singer was completing filming for what would be his motion picture debut in the western romance, Love Me Tender.
These two factors raise an interesting point for conjecture. Had it not been for Allen beating Sullivan in the ratings, would Presley have appeared on the Sullivan Show that year? The smart money would say yes because, for all the controversy surrounding Elvis in his early days – let's not forget that in 1956, America and rock and roll were not exactly on the best of terms, and Presley's lusty image and musical style, which was heavily influenced by African American rhythm and blues, made him a flashpoint figure in the '50s culture wars – Ed Sullivan had already earned his reputation as a color-blind and socially inclusive arbiter of taste. Performing African American songwriter Otis Blackwell's "Don't Be Cruel" and the Little Richard hit "Ready Teddy" (wherein every time he started to shake, the cameras cut away from full head-to-toe shots), Presley's initial Sullivan appearance was estimated to have attracted an audience of some 60 million people – over 80% of all possible television viewers – and Sullivan certainly understood the power that Presley was already wielding with his swinging hips and driving music, so he likely would have had him on anyway.
Still, as was proven by the numbers, the impact of a Sullivan endorsement truly meant something. While Elvis Presley had appeared on a few nationally broadcast TV programs before September 9th, 1956, and was already being hailed as the "King" of rock and roll, his debut on Ed Sullivan turned out to be, historically speaking, the official coronation. As soon as Elvis started crooning the theme song from Love Me Tender – and you can hear the swoons coming from females in the audience as soon as they realize it's a soft ballad – America had no choice but to raise the white flag. Regardless of all the nay-sayers, rock and roll had won. And, when all was said and done, Ed Sullivan had helped make it happen.
To see all of Elvis Presley's performances from the show check out the official playlist.
Watch all the latest archival videos from The Ed Sullivan Show on the program's official YouTube channel.