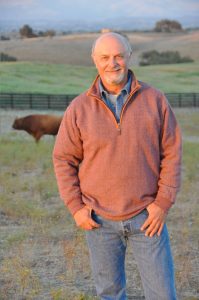 Andrew Solt is an Emmy- and Grammy-winning, producer, director, writer and documentary filmmaker. He owns the rights to The Ed Sullivan Show library and has created over 100 hours of new programming from the archive.  Solt has done a number of documentaries on the history of rock and roll, including feature films about rock icons Elvis Presley and John Lennon. His entertainment output also includes numerous specials and series for broadcast and cable television.
Andrew Solt was born in London in 1947 and spent his early years in South Africa before moving to Los Angeles in 1958. Solt, who is the nephew of Hungarian screenwriter Andrew P. Solt (In a Lonely Place), graduated from Hollywood High School before attending the University of California, Los Angeles where he earned a master's degree in broadcast journalism. He is married to Claudia Falkenburg, who is the daughter of 1948 Wimbledon men's singles tennis champion Bob Falkenburg and the niece of 1950s actress-model Jinx Falkenburg.  Andrew and Claudia have two children, Joshua and Dakota.
In 1972, Andrew Solt began an off-and-on collaboration with the award-winning television documentary-maker and producer David Wolper that extended through their work together on "Imagine: John Lennon" in 1988.
In the late 1970s and early 1980s, Solt worked with underwater pioneer Jacques-Yves Cousteau on several television projects. He wrote and produced Oasis in Space (1976-77), a six-part half-hour series executive produced by Jacques Cousteau and his son, Philippe.  This production earned Solt his first of nine Emmy nominations. In 1977-78 he produced Cousteau Odyssey, four one-hour specials about deep-sea explorations shot in Greece including The Search for Atlantis I & II and The Search for The Britannic. In 1984, Solt produced The Mississippi — Reluctant Ally, a two-hour documentary about the nation's longest river which won the 1985 Emmy for Outstanding Informational Special.  The award was shared by Solt and Jacques Cousteau's son, Jean-Michel.
In 1979, Andrew Solt teamed with producer/director Malcolm Leo to create one of the first documentaries about rock music, a two-hour television special called Heroes of Rock and Roll.  Time Magazine music critic Jay Cocks commended the producers for "paying particular attention to getting the roots – in country and rhythm and blues – right." In 1995, Solt again examined rock and roll as executive producer of the 10-episode The History of Rock and Roll (Time-Life), which was syndicated on television and sold on home video. The series chronologically documents rock music from its roots in the early 1950s to Nirvana and U2 in the 1990s.  Other Solt productions in the music genre include 25 x 5: The Continuing Adventures of the Rolling Stones (1989) and Elvis: The Great Performances (1990).
In 1990, Andrew Solt purchased the exclusive rights to the complete library of The Ed Sullivan Show from Ed Sullivan's daughter Elizabeth and her husband Bob Precht. This collection consists of 1,087 hours of kinescopes and videotapes that CBS had broadcast between 1948 and 1971 on Sunday nights. Included in the archive are over 10,000 live performances by virtually every popular entertainer of the post-war era, highlighted by appearances of Elvis Presley and the Beatles.  The three shows from the 1950's featuring Elvis Presley, including the last one where he was shown only from the waist up to censor his pelvic gyrations; and the American television debut of the Beatles in 1964 which attracted 73 million viewers have become part of television history.
Solt's production company, SOFA Entertainment, cataloged, organized and cleared rights for the original shows.  Over the years the shows have been edited into varying formats including network specials, half-hour series (airing on TV Land, PBS and Vh1), home video compilations, as well as iTunes video and audio downloads.
One of the earliest Ed Sullivan Show compilations produced by Andrew Solt and SOFA Entertainment was The Very Best of the Ed Sullivan Show.  This two-hour collection of acts hosted by Carol Burnett aired on CBS Feb. 17, 1991, and was the second highest-rated special of the year after the Academy Awards. The special helped revive Sullivan's reputation as one of the key figures from television's golden age. "It was by almost any measure the last great TV show," wrote one reviewer, "one of our fondest, dearest pop culture memories."
With the success of Very Best of the Ed Sullivan Show, Solt continued to mine the archive over the years, producing numerous broadcast and video-DVD capsules thematically organized including Rock 'n Roll Revolution, A Really Big Show: Ed Sullivan's 50th Anniversary, Ed Sullivan's Rock & Roll Classics, Great Moments in Opera, The Best of Broadway Musicals, and more.
Andrew Solt has also created several DVD sets of the historical Beatles and Elvis appearances in: The Four Complete Ed Sullivan Shows Featuring the Beatles and Elvis—The Ed Sullivan Shows. Each consists of restored versions of the entire shows on which the Beatles and Elvis appeared, including all the other acts as well as commercials. The Ed Sullivan Show – The 4 Complete Shows Starring The Beatles, was actually reissued in September 2010 with rare additional footage.
Andrew Solt's work has also included the writing, directing and production of a number of feature films.  In 1981, This is Elvis, the first in-depth film biography of Presley, was produced, written and directed by Solt and Malcolm Leo. The documentary includes Elvis performances, rare home movies and the first look inside Graceland. This is Elvis was issued as a two-DVD set in 2007 to coincide with the 30th anniversary of Presley's death, including both the original feature and a 1983 home-video version as well as an extra 40 minutes of performance footage and home movies.  In 1982, Solt and Leo collaborated on another production, It Came from Hollywood, a comic compilation of over 100 "golden turkey" movies featuring comedians Gilda Radner, Dan Aykroyd, John Candy and Cheech and Chong.
In 1988, Andrew Solt released the critically acclaimed film Imagine: John Lennon. The film, an intimate documentary about the most rebellious member of The Beatles, was executive produced by David Wolper, produced and directed by Solt as well as co-written by Solt and Sam Egan.  It spans Lennon's life and career with an emphasis on Lennon's post-Beatles years. The core of the film is based on some 240-hours of never-seen-before film and video made available by his widow Yoko Ono who cooperated but agreed to play no role in the production of the film. Lennon narrates the film, utilizing 100 hours of audio tape interviews including recollections made months before his assassination in December 1980. The film was released soon after a sensationalistic biography by Albert Goldman, The Lives of John Lennon, hit bookstores. Some critics saw it as a deliberate attempt to counter the negative book about Lennon with a more positive view. Solt denied this was the goal: "We were out to create a balanced portrait of John Lennon, not an idealized vision of 'St. John of Liverpool.' Our film leaves it to the audience to decide who the real John Lennon was." In 2001, Solt along with Yoko Ono, Greg Vines and Leslie Tong went on to win a Grammy for Best Long-Form Music Video for producing and directing Gimme Some Truth – The Making of John Lennon's Imagine Album.
Here is a list of some of Andrew Solt's selected credits:
The Explorers series, ABC, 1973
8 Wide World of Entertainment specials, ABC, 1975
Oasis In Space – 6 Jacques Cousteau specials, PBS, 1976-77
Cousteau Odyssey – 4 Jacques Cousteau specials, PBS, 1977-78
Heroes of Rock 'n Roll, ABC, 1978
Bob Hope Special: Bob Hope's Overseas Christmas Tours I & II (6 hours), NBC, 1980
This Is Elvis, Warner Bros., 1981
It Came From Hollywood, Paramount, 1982
E.T. & Friends–Magical Movie Visitors, CBS, 1982
Those Wonderful TV Game Shows, NBC, 1983
Donald Duck's 50th Birthday, CBS, 1984
Cousteau: Mississippi, Emmy winner, Turner 1985
America Censored, CBS, 1985
The Honeymooners Reunion, NBC, 1985
The Muppets: A Celebration of 30 Years, CBS, 1986
Great Moments in Disney Animation, ABC, 1986
Disney's Dtv Valentine (A.K.A. Romancin'), NBC, 1986
Disney Goes To The Oscars (Academy Awards), ABC, 1986
Great Moments In Disney Animation  (Emmy nomination), ABC, 1987
Disney's Dtv Doggone Valentine, NBC, 1987
DISNEY'S DTV MONSTER HITS, NBC, 1987
Remembering Marilyn (documentary), ABC, 1988
Imagine: John Lennon, Warner Bros., 1988
Learned Pigs & Fireproof Women, CBS, 1989
25 x 5: The Continuing Adventure of The Rolling Stones, Sony, 1989
Elvis: The Great Performances, Buena Vista Home Video, 1990
The Very Best of The Ed Sullivan Show, CBS, 1991
Elvis: The Great Performances, CBS, 1992
Holiday Greeting from The Ed Sullivan Show, CBS, 1992
The Andy Griffith Show Reunion, CBS, 1993
Sesame Street's All-Star 25th Birthday: Star and Street Forever!), ABC, 1994
The Best of Broadway Musicals from The Ed Sullivan Show, 1994
Grammy' s Greatest Moments, CBS, 1994
All My Children's 25th Anniversary, ABC, 1995
The History of Rock 'n Roll, Syndicated Series, 1995
The Ed Sullivan All-Star Comedy Special, CBS, 1995
The Hunt for Amazing Treasures, NBC, 1995
Rock 'n Roll Revolution: The British Invade America, CBS, 1997
50 Years of Television: A Celebration of the Academy of Television Arts & Sciences Golden Anniversary, HBO, 1997
Great Moments in Opera, PBS, 1997
Elvis from the Waist Up,VH1, 1997
Rogues Gallery, TLC series, 1997
CBS: The First 50 Years, CBS, 1998
A Really Big Show: Ed Sullivan's 50th Anniversary, CBS, 1998
Rock 'n Roll Forever: Ed Sullivan's Greatest Hits, CBS, 1999
Ed Sullivan's Rock 'n Roll Classics, VH1 series, 1999-2001
Gimme Some Truth: The Making of John Lennon's Imagine, Grammy Winner, 2001
50 Years of NBC Late Night, NBC, 2002
NBC's 75th Anniversary Special, NBC, 2002
CBS 75th Anniversary Special, CBS, 2003
The Complete Ed Sullivan Shows Featuring The Beatles, 2003
Elvis: The Ed Sullivan Shows, 2006
Ed Sullivan's Rock & Roll Classics – The Sixties" on PBS (2010)
All Star Comedy from The Ed Sullivan Show" on PBS (2011)
Ed Sullivan Presents: Rock 'N Roll Revolution – The British Invasion, 2011
The Four Complete Ed Sullivan Shows Starring The Beatles, 2011
Elvis: The Great Performances, 2011
Motown Gold from The Ed Sullivan Show, 2011
The Best of "The Temptations" on The Ed Sullivan Show, 2011
The Best of "The Supremes" on The Ed Sullivan Show, 2011
All Six Ed Sullivan Shows Starring "The Rolling Stones," 2011
Ed Sullivan's Rock & Roll Classics – Top Performers" on PBS (2012)
Steve Martin: The Television Stuff (Box Set—6 Specials and Bonus Disc), 2012
Books:
Andrew Solt and Sam Egan, John Lennon: Imagine. MacMillan Publishing, 1989
Claudia Falkenburg and Andrew Solt, editors; text by John Leonard. A Really Big Show: A Visual History of The Ed Sullivan Show. Viking Studio Books, 1992.