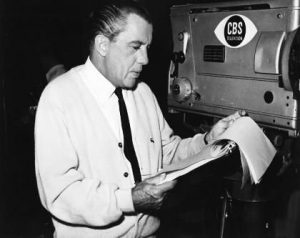 On this day in 1974, Ed Sullivan passed away from esophageal cancer at the age of 73. He died just a few years following the cancellation of his show in 1971 and one year after the heartbreaking loss of the love of his life, Sylvia. A ceremony was held for Ed Sullivan at St. Patrick's Cathedral in New York City before he was laid to rest at Ferncliff Cemetery in Hartsdale, New York.
Ed Sullivan was best known as the host of the country's most popular variety show, introducing viewers to such acts as The Beatles, Elvis Presley, The Rolling Stones, The Jackson 5, The Doors and Topo Gigio. However, there was also an off-screen side to the man. When not hosting the show, Ed loved the New York nightlife, was an avid world traveler and enjoyed taking in a few horse races at Suffolk Downs. More importantly, he was a solid family man who deeply loved his wife, Sylvia and daughter, Betty. Here is a short video bio about Ed Sullivan:
For more on this man who brought people together in living rooms throughout the country every Sunday night for 23 years check out this article about Ed Sullivan.