He was the first African American artist to candidly comment on social inequities before an integrated audience. In tackling racial issues, politics and details of his personal life, Pryor managed to be bitingly funny, edgy, controversial and yet not be threatening to white audiences.
Born in Peoria, Illinois, to a prostitute mother and a pimp father, Pryor was raised in his grandmother's brothel after his mother abandoned him. In his autobiography Pryor Convictions and Other Life Sentences, he said: "I was a skinny little black kid with big eyes that took in the whole world and a wide smile that begged for more attention than anyone had time to give." In his search for love and approval, he found comedy.
After serving in the army and inspired by Bill Cosby, Pryor moved to New York City in 1963. As an opening act for artists like Bob Dylan and Woody Allen, his early stand-up was often compared to Cosby's. On May 5th, 1965 the "young Richard Pryor," as Sullivan often called him, made his debut on The Ed Sullivan Show. While a little nervous at first, he quickly got the studio audience on his side by talking about something they all had in common – life in New York. His act continued with bits about being a naïve Midwesterner on a subway and TV commercials he found to be completely ridiculous. Feeling much more comfortable after earning some good laughs and strong audience support, Pryor exited smiling, knowing he had made his mark and "killed" on stage.
During his fifteen appearances on Ed Sullivan, Richard always prepared a new and different routine. On some occasions, he would pull out favorite characters he had created, such as his grade school bully "LeRoy" (coincidentally, also his father's name) or "the first man to walk on the sun." While Richard's routines seemed safe and family-friendly at first, he gradually slipped into more profane, and at times, edgier comedy.
Because The Ed Sullivan Show was live, comedians had to be prepared to trim their acts if the show was running long. That apparently did not apply to Pryor. Russ Petranto, whose job it was to time the show from the control room, remembered one Pryor routine that was about a wino telling a kid 'Don't turn out like me.' Although it had run over seven minutes in rehearsal, he recalls "It was so brilliant you couldn't stand it." In this instance, Ed and producer Bob Precht ignored the CBS censors who were worried about the subject matter and they let Pryor perform the entire piece uncut.
Pryor's final Sullivan performance was in 1970, by which time his career had exploded. He was arguably American's best know and most successful comedian. Pryor went on to star in several films, two television series and recorded numerous Grammy-winning albums. He hosted Saturday Night Live and the Academy Awards. But success had its price, and for many years Pryor was addicted to cocaine. In 1980, after a drug binge, he was critically injured when he caught on fire while freebasing.
Still, he was the first recipient of the Mark Twain Prize for American Humor. Only able to whisper "Thank you" when he accepted, he wrote: "Two things people throughout history have had in common are hatred and humor. I am proud that, like Mark Twain, I have been able to use humor to lessen people's hatred." Although Pryor's last few years were spent battling multiple sclerosis, he became a vigilant advocate for animal rights and PETA named their highest award after him. In 2005, Pryor died after going into cardiac arrest, and was awarded the Grammy Lifetime Achievement Award posthumously.
In 2004, Comedy Central selected Richard Pryor as the Number One Stand-up Comedian of all time, no doubt, due in part to his seminal appearances on The Ed Sullivan Show.
Products Featuring this artist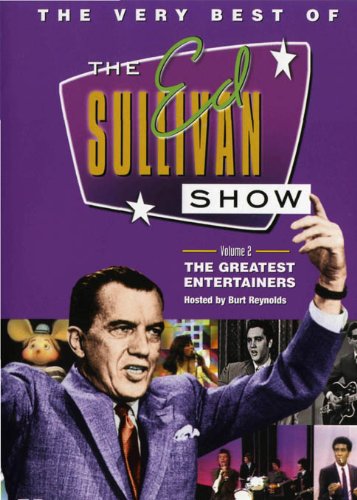 The Very Best of the Ed Sullivan Show Vol. 2: The Greatest Entertainers
$15.96
Buy Now