Don and Phil Everly were born into music. Their parents, radio performers Ike and Margaret Everly, formed the Everly Family, a singing group. The brothers eventually struck out on their own and went to Nashville as teenagers. But it wasn't until they landed at Cadence Records that they found any success. Although several artists had turned down recording "Bye, Bye Love," the Everly Brothers took it and scored a huge hit.
The duo first hit The Ed Sullivan Show on June 30th 1957. Don recalls, "When we were on the Ed Sullivan show, it was hitting really the big time because everybody in the country watched Ed Sullivan on a Sunday night." With their snazzy suits and slick black guitars the boys performed their first hit, "Bye, Bye Love" in front of a farm set.
The brothers were invited back on August 4th 1957. They once again sang "Bye, Bye Love" and then "Doll Baby." On October 6, 1957 they sang the controversial "Wake up Little Susie." The song was a number one hit, even though some radio stations banned it because of suggestive lyrics. Don was surprised by the reaction, "It was this record about the kids waking' up in the movie. It didn't dawn on me that someone would get the wrong impression about that, and figured we were corrupting the youth. "
Over the next few years, Phil and Don returned several times to the Sullivan stage, performing hits like "Be-Bop-a-Lula" and "All I Have to do is Dream." Of the Sullivan show, Don said: "You could follow an elephant one time or there'd be something else a comedian or a Broadway thing. It was a real variety, but he would bring everything thing on and he liked rock 'n roll."
In 1961, they decided to take a break from show biz and joined the United States Marine Corps. This led to a truly unforgettable Sullivan performance. Fresh out of boot camp, on February 18th 1962, they appeared in their Marine uniforms and belted out heartfelt renditions of "Jezebel" and "Crying in the Rain."
The Everly Brothers performed their last Sullivan set on February 28th 1971. They walked onto a psychedelic stage and opened the show with "Bowling Green." The audience cheered and whistled, proving that the brothers' hits could stand the test of time. After a short commercial break, they returned to carry out performances of "Mama Tried," a slowed down version of "All I Have to do is Dream," and fittingly ended with "Bye, Bye Love," which was the very first song they performed on The Ed Sullivan Show.
The duo separated acrimoniously in 1973 and each attempted solo careers. As Don found success with his own band in Nashville, Phil recorded just a few hits for Clint Eastwood films' soundtracks. After ten years, the brothers reconciled and began playing once more, sometimes with Don's son Edan playing with them. The Everly Brothers were inducted into the Rock and Roll Hall of Fame in 1986, the Country Music Hall of Fame in 2001 and received a Grammy Lifetime Achievement Award in 1997. They still perform together occasionally, treating audiences to some of their 27 Top 40 singles and 35 Top 100 singles.
Products Featuring this artist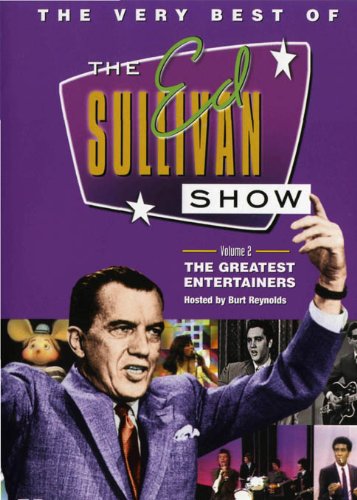 The Very Best of the Ed Sullivan Show Vol. 2: The Greatest Entertainers
$15.96
Buy Now