On this day in 1959, Bobby Darin appeared for the first time on The Ed Sullivan Show performing his classic hits "Mack the Knife" and "Dream Lover."  Darin's musical performances covered a broad range of genres including pop, rock, jazz, folk and country.  His talent was not limited solely to musical performance though; he was also able reach considerable success as an actor and music business entrepreneur as well.  Darin was inducted into the Rock and Roll Hall of Fame in 1990, voted into the Songwriters Hall of Fame in 1999, and has a star on the Hollywood Walk of Fame.
In 1955, Darin began writing songs with Don Kirshner, a fellow Bronx Science student, and a year later was able to negotiate a contract with Decca records.  Darin wrote several songs for up and comer Connie Francis during his time at the label.  Darin eventually moved from Decca and signed with Atlantic Records where he began writing and performing songs for himself and many others.  In 1959, he recorded the self-penned "Dream Lover."  The ballad was a monumental success, becoming a multi-million dollar hit.  This allowed Darin to demand more creative control over his material, eventually writing his next single "Mack the Knife."  Although reluctant at first to releasing it as a single, the song hit No. 1 on the charts and stayed there consistently for nine weeks, selling two million copies and eventually winning the Grammy award for Record of the Year in 1960.  "Mack the Knife" has also been honored with a Grammy Hall of Fame Award.
Bobby Darin struggled with health issues, which at the time were unknown to the public, however this pushed him hard to succeed with the little time he had.  Darin met Sandra Dee while filming the movie "Come September" in 1961 and eventually the two wed.  They went on to make several successful films together for Universal Studios.  They had one son, Dodd Mitchell Darin, but unfortunately divorced in 1967.
In 2004, Kevin Spacey directed and starred in a biopic of Darin's life entitled "Beyond the Sea."  Kate Bosworth co-starred as Sandra Dee with much of the film covering the couple's relationship and Darin's musical career.  Spacey received a Golden Globe nomination for his portrayal of Bobby Darin.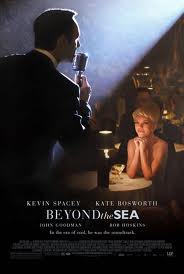 Bobby Darin went on to appear 6 times on The Ed Sullivan Show performing songs such as "That's the Way Love is," "What'd I Say," and "Beyond The Sea."