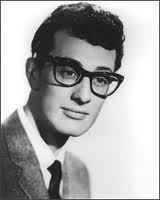 September 7, 2011 will mark the 75th birthday of music legend Buddy Holly.  Less than two years after the release of his hit song "That'll Be The Day," Holly was killed in a tragic plane accident at the age of 22 along with Richie Valens, The Big Bopper and pilot, Roger Peterson.  In such a short period, Holly released 27 Top-40 hits, several of which reached the No. 1 position on the Billboard charts and remained there long after his death. 
In retrospect, many refer to the day Holly was killed as, "the day the music died," regarding his tremendous contribution to the form.  Buddy Holly appeared twice on The Ed Sullivan Show during his brief career and performed "That'll Be The Day" with his Crickets on December 1, 1957.
Holly is known for being one of the first artists to pen material without the aid of songwriters.  He and his band arranged and wrote all of their own songs together and recorded without studio musicians.   This way of operating became a blueprint for future rock bands of generations to come. 
Holly has inspired many musicians over the years, most notably The Beatles, who based their name on his Crickets.  Holly was a part of the first batch of musicians to be inducted into the Rock and Roll Hall of Fame and was listed among Rolling Stone's "Fifty Greatest Artists of All Time."  Buddy Holly will forever be in the hearts of his fans and remain a profound influence on the future of music.
To commemorate Buddy Holly's 75th birthday on September 7, Los Angeles is officially declaring it "Buddy Holly Day." At the celebration, Holly will receive a much-deserved star on the Hollywood Walk of Fame. The event will also include a rare appearance by Maria Elena Holly (Holly's widow) speaking on his behalf, along with Phil Everly, Peter Asher, Gary Busey and surprise guests that are expected to honor the iconic legend.
That evening, there will be a party at The Music Box in Hollywood that will include a Buddy Holly tribute concert with special guest performances by Paul Anka, Michelle Branch, Chris Isaak, Lyle Lovett, Raul Malo, Graham Nash, Stevie Nicks, Boz Scaggs, Patrick Stump and more. The concert will be filmed and aired on PBS in December 2011.