"Darkness cannot drive out darkness; only light can do that. Hate cannot drive out hate; only love can do that." – Martin Luther King, Jr.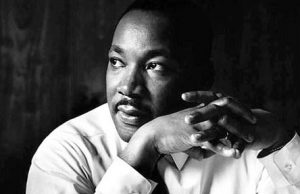 Today, as the nation marks the 25th anniversary of the Martin Luther King Jr. holiday, we remember the country's most prominent civil rights leader and his work to end racial segregation and discrimination through non-violent means. Martin Luther King, Jr. was one of the most important people in US History, and today we should all reflect on how we can continue to carry out his dream.
Martin Luther King, Jr. was also a great influence to many of the guests that appeared on The Ed Sullivan Show. Some of these people include, Elvis Presley, who later in his singing career often recited King's "I Have a Dream" speech for inspiration; Smokey Robinson and The Miracles, who performed a tribute song on Sullivan for MLK titled "Abraham, Martin & John"; and Stevie Wonder, who helped establish the MLK holiday with the popularity of his single "Happy Birthday." Martin Luther King, Jr.'s message has had (and continues to have) a profound impact on countless artists and performers.
To celebrate Martin Luther King's life we would like to share a special moment from The Ed Sullivan Show. On March 22, 1970 Coretta Scott King appeared on The Ed Sullivan Show to introduce clips of her late husband Martin Luther King, Jr. delivering his most famous speeches. These clips were used in the historical documentary film "King: A Filmed Record…Montgomery to Memphis" (If you have not seen this film you must watch it). Here is that powerful and moving appearance by Coretta on The Ed Sullivan Show: