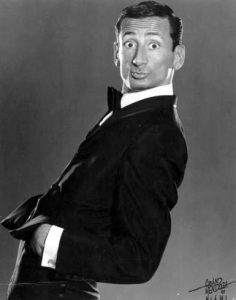 On January 31, 2011, stand-up comedian Charlie Callas died in Las Vegas at the age of 83.  Callas had worked on television and in film for over five decades.  He was a regular on variety shows, appeared in numerous Mel Brooks films and toured around with Frank Sinatra and Tom Jones in the 1950s and 60s.    
Callas actually began his career as a big band drummer working with Tommy Dorsey before transitioning into stand-up where he became known for his amusing character-oriented, rapid-fire comedy routines, bizarre array of facial expressions and wacky sound effects. Callas rose to fame as a constant presence on the variety shows of Ed Sullivan, Jackie Gleason, Flip Wilson, Andy Williams, Merv Griffin and later Johnny Carson.  Charlie Callas was actually famously banned from The Tonight Show by Johnny Carson on September 21, 1982. During one of Callas' routines that was not getting too many laughs, Johnny Carson whistled a "bomb" sound to which Charlie responded by shoving Carson. Carson, unamused, told Callas on the spot that he would never appear on the show again.  While the falling out with Johnny Carson was unfortunate it didn't kill Callas' career as he would go on to take on numerous roles in both television and film. His memorable credits include "The Big Mouth," "History of the World: Part 1," "The Munsters," "The Monkees," "Pete's Dragon" and "Switch." 
With Nixon impressionist David Frye passing away on Jan. 24, this is the second great comedian we have lost this week.