Known for her powerful and husky voice, Dusty Springfield is considered to be one of the most successful British female singers. Over the course of a long, episodic career, she experimented with music genres like pop, R&B, Motown-style soul, traditional folk, country, and contemporary dance music. She has been called "one of the five mighty pop divas of the sixties" along with other artists such as Diana Ross and Martha Reeves.
Born Mary Isabel Catherine Bernadette O'Brien, she took the professional name "Dusty Springfield" after joining her brother's folk oriented band, the Springfields. The Springfields were Britain's top-selling group in 1961 and even enjoyed an American hit in 1962 ("Silver Threads and Golden Needles") before The Beatles Ed Sullivan Show 1964 performance propelled the British Invasion to new heights. Dusty left the Springfields in 1963 to launch a solo career and immediately succeeded as a solo artist. Her first hit "I Only Want to Be With You" (1964), made her the second British act after The Beatles to score a stateside pop hit.
Like most pop stars of the time, Dusty was also a guest on The Ed Sullivan Show; appearing a total of 3 times on the show.  Her first appearance took place in the midst of the British Invasion, on May 10th, 1964. That night Dusty performed her chart topper "I Only Want to Be With You," which she also performed when she came back to the show a year later on May 2nd, 1965. The same night that The Rolling Stones appeared on Ed Sullivan for the second time. Her last performance happened 3 years later on November 24th, 1968, where she sang her mega hit "Son of a Preacher Man." This last performance was the only one to be broadcast in color.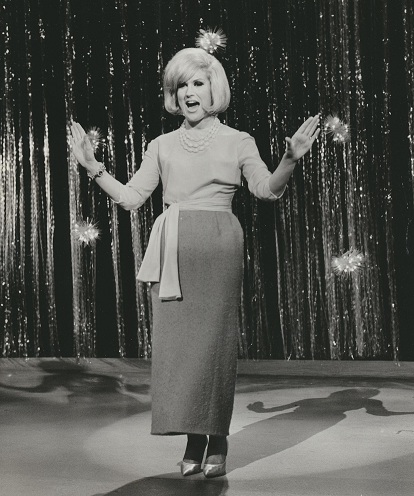 Ed Sullivan was a big fan of Dusty and recognized that she was always well received by his audience. Dusty was a family friendly act and her performances were always catchy, enjoyable and fun to watch. In all three of her Sullivan appearances, Dusty wore bell sleeve blouses characteristic of the era with her trademark blonde beehive hair and heavy eye shadow.
Following her performances on The Ed Sullivan Show, the seventies were for the most part quiet years for Springfield, who moved from London to Los Angeles and recorded only occasionally. In 1987, Dusty Springfield made a comeback when Britain's Pet Shop Boys recruited her to sing on "What Have I Done to Deserve This," a dance-floor favorite that reached #2 in the U.S.  In 1994, "Son of a Preacher Man" regained popularity with its inclusion on Quentin Tarantino's Pulp Fiction soundtrack.
In 1999, Springfield was inducted into the Rock & Roll Hall of Fame. That same year, on March 2nd, just six weeks before her 60th birthday, Springfield died of breast cancer.
Dusty Springfield's "Son of a Preacher" performance on Ed Sullivan is available on the 7 DVD set "Ed Sullivan's Rock & Roll Classics."