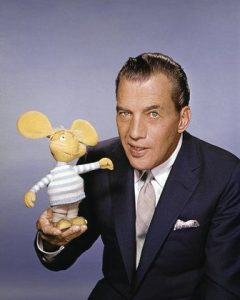 On this day in 1901 Ed Sullivan was born in New York City.  Most people are familiar with the legendary television host's variety show, The Ed Sullivan Show, which featured star-studded musical performances by the likes of The Beatles, Elvis Presley, The Rolling Stones, Jackson 5 and The Doors.  You may also recall the comedic routines of Richard Pryor, Rodney Dangerfield, George Carlin and Joan Rivers mixed in with the novelty acts of Topo Gigio and Zippy "The Roller Skating Chimp."  But what about the man behind it all? As we celebrate the birth of Ed Sullivan, let's take a look at the how he became one of American television's greatest icons.   
Edward Vincent Sullivan was born in Harlem, New York on September 28, 1901.  He grew up, like most young boys, with a love for sports.  So it was no surprise when he became a newspaper sports reporter in New York City.  However, after a 1931 feature column about Broadway, Ed Sullivan was hired by The New York Daily News to write a regular gossip column called "Little Ole New York."  In addition to writing for the newspaper Sullivan hosted radio shows and emceed events throughout New York City.  It was at one such event in 1947, a dance competition called The Harvest Moon Ball, that Ed Sullivan received his break into the new medium of television.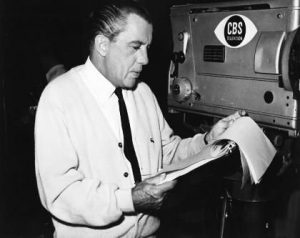 Unbeknownst to Sullivan, The Harvest Moon Ball had been televised and CBS liked what they saw in the host.  CBS hired him for their new variety show called "Toast of the Town."  After a rough start in which sponsors almost pulled the plug on the show, the host worked to book the best talent in show business.  The hard work paid off as Sullivan started getting groundbreaking artists from rock 'n' roll, comedy, novelty, pop music, politics, sports, opera and more. Sullivan had put together a true variety show.  The iconic host's formula for success:
"Open big, have a good comedy act, put in something for children, and keep the show clean."
This formula obviously resonated with viewers, as Ed Sullivan went on to become a Sunday night mainstay for 23 years. 
On October 13, 1974 Ed Sullivan passed away at the age of 73.  While gone for almost 4 decades, his show and its performances live on to this day and his name still reverberates in both television and music history.
For more about the iconic host check out this Ed Sullivan bio and a history of The Ed Sullivan Show!