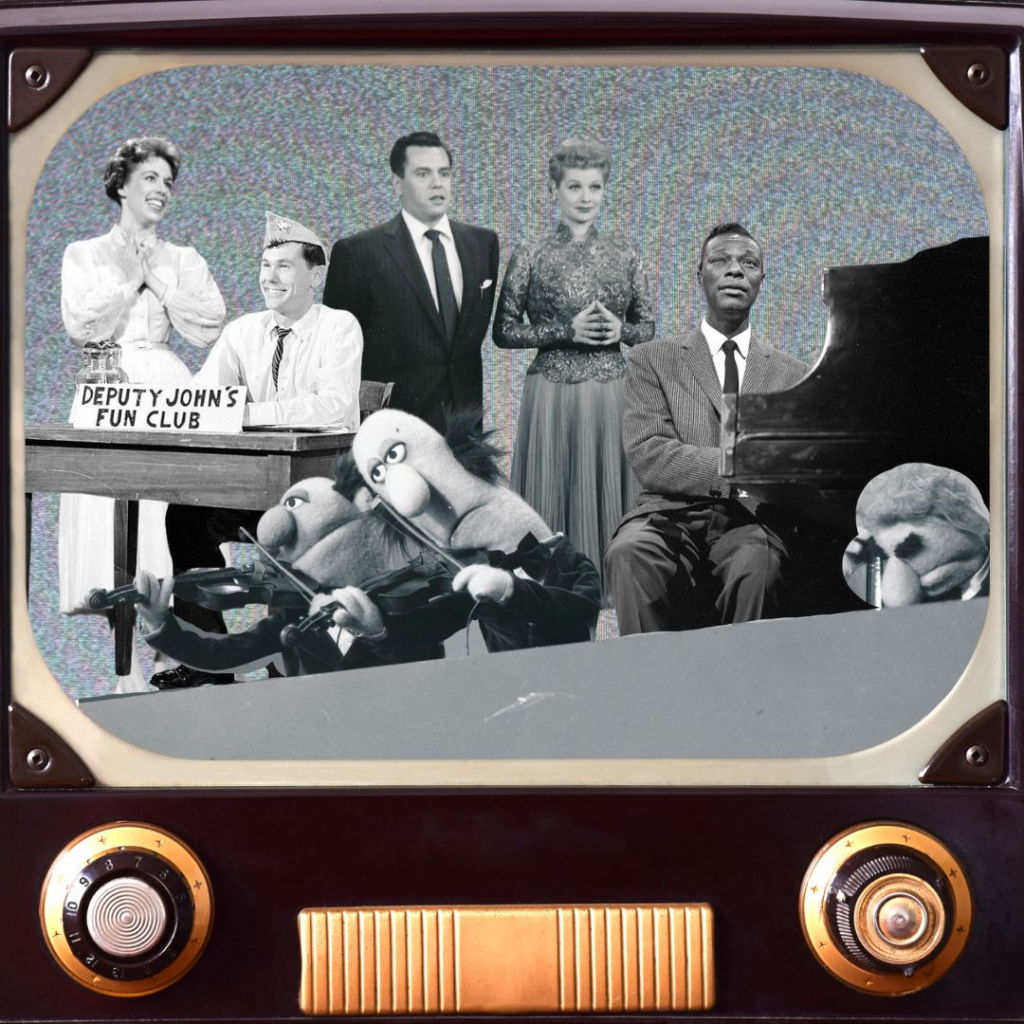 For 23 remarkable years, the Ed Sullivan Show graced television screens, serving as a vibrant platform that welcomed a multitude of iconic artists from all corners of the entertainment world, propelling many careers. We've compiled a list of six entertainers who would go on to host their own show and expand upon the talents showcased on The Ed Sullivan Show.
Johnny Carson
It would be an affront to TV history without including the legendary Johnny Carson among Ed's guests who went on to have their own show. With dreams to be a radio performer, Carson achieved just that and so much more, cementing his place among the pantheon of entertainers with his quick wit and casual conversation with guests.
When it came time to choose a successor for NBC's Tonight, Carson was a panelist on the popular game show What's My Line and seemed a great choice. Carson initially turned down the offer, worried about conversing with guests and making idle chatter. He eventually signed on in February of 1962 and finished out his time at What's My Line, while NBC used guest hosts until he could take over the show. His reign lasted from 1962 to 1992. The show was shot initially in New York but moved permanently to the West Coast after a few years so Carson could be closer to Hollywood stars. It wouldn't move back to the East Coast until Jimmy Fallon took over in 2014.
The show started with a monologue and moved to a short sketch before introducing the guests for the night. Sketch characters included Carnac the Magnificent (Derived from Steve Allen's "The Question Man" sketch) where the punchline was delivered to answer a question sealed in the envelope, Art Fern and El Mouldo. In 1974, Carson petitioned the executives for reruns to be aired during the week, rather than the weekend, in order to work fewer days. To fill the time slot, NBC created a little show called Saturday Night Live. Only 33 shows prior to May of 1972 are known to exist. The others were lost to clear storage space. The remaining from 1973 to its end in 1992, fortunately survived.
From a young age, Carol Burnett was destined to make audiences laugh. From perfecting her Tarzan yell to her first acting class at UCLA, Burnett has had an affinity for comedy. During the '50s and '60s, she steadily made a name for herself performing on Broadway, hosting TV specials, and appearing on variety shows such as The Garry Moore Show and The Ed Sullivan Show. Then, in 1967, CBS came calling.
The Carol Burnett Show ran from 1967 to 1978. It was an ensemble variety show that featured other artists who would become household names. Tim Conway, Harvey Corman, Lyle Waggoner, and Vicki Lawrence made up the recurring cast of characters. They perfected parodies of well-known movies along with sketches of their own making. Best known among these performances was The Family, a sketch that went on to have its own short-lived spin-off show, As The Stomach Turns, and perhaps the most iconic, Went with the Wind, a Gone with the Wind parody which featured Burnett in the famous curtain dress made by costumer Bob Mackie. The show had notable guests that also had graced the Sullivan stage including Lucille Ball, Cher, Carol Channing, and Ella Fitzgerald to name a select few.
The Carol Burnett Show, with its charm and comedic brilliance, captivated the hearts of millions over the course of 11 seasons, totaling 279 episodes. This program not only left an indelible mark on television history but also garnered immense recognition, securing an impressive 25 out of 70 Emmy Awards it was nominated for. In 2013, it earned a well-deserved spot on TV Guide's prestigious list of the 60 Greatest Shows of All Time. For fans seeking a tangible connection to the show's legacy, a visit to The Smithsonian Institute in the nation's capital offers the chance to admire the iconic curtain dress on display, a cherished artifact of television history.
Mike Douglas
Michael Delaney Dowd, Jr best known as Mike Douglas got his entertainment start as a singer. He performed on cruise ships and radio stations, including WKY in Oklahoma City and WMAQ-TV in Chicago, after he returned from WWII. By 1961, Douglas was residing in Cleveland and began hosting an afternoon TV talk-show on KYW-TV. The Mike Douglas Show was born. The show was nationally syndicated in 1963, only two years into the show's run. With the show's production's parent company moving to Philadelphia in 1965 the show followed.
The program's format consisted of weekly co-hosts who interacted with Douglas and the studio audience. Co-hosts included musicians, politicians, actors, athletes, many of whom also performed on Sullivan's stage, including Herman's Hermits, the Rolling Stones, John Lennon (with Yoko Ono) and Barbra Streisand.
The show maintained its popularity over decades, running for 21 years with 4,000 episodes produced. It won 4 Emmys in its daytime category. Eventually with changing viewer's tastes, the show rebranded and became a traveling roadshow called The Mike Douglas Entertainment Hour, but ultimately it didn't help boost ratings. The show officially went off the air in 1981.
The brainchild of puppeteer Jim Henson, the Muppets became an instant success when the group premiered with Sam and Friends, a short form TV special, in 1955. They made the talk show rounds through the 60's, appearing on the Sullivan stage a whopping 25 times, before they would star on their own show beginning in 1976.
The Muppet Show was a sketch comedy program that centered on Kermit trying to keep control of the shenanigans that happen on and off stage while also trying to appease the guest stars at the same time. The show also introduced three staple characters who we now can't picture the Muppets without: Miss Piggy, Gonzo and Fozzy Bear. Recurring sketches include Pigs in Space, a StarTrek parody sketch, Gonzo's Stunts and Muppet News Flash. The guest stars included, among others, Julie Andrews, Liza Minnelli, Bob Hope and Harry Belafonte, who also showcased their talents on The Ed Sullivan Show.
The Muppet Show was a hit, running for five seasons from 1976 to 1981. The show also garnered well deserved recognition, including 4 Emmy wins among 21 nominations and a Peabody Award and became an integral part of Sesame Street.
From the 1956/1957 television season, Nat King Cole hosted his own variety show on NBC and became the first African-American host of a nationally broadcast television show. It was music centered where Cole would host guests including Sammy Davis Jr, Eartha Kitt and Harry Belafonte. Cole's wife, Maria, also appeared occasionally. Unfortunately, it was short lived, and ran for only 57 episodes.
NBC footed the production bill without a national sponsor, guaranteeing that one would come around after they saw the sophistication of the show. They came close but a couple big names pulled out at the eleventh hour. Ultimately, no sponsor came through. Though NBC agreed to continue funding the program, the decision to cancel was Cole's, famously ending his last show with the comment "Madison Avenue is scared of the dark." While the show didn't last long enough, it was another early milestone attempt in which African-American performers were broadcast into the homes of millions.
Bob Newhart
Born George Robert Newhart, he started his career as a copywriter for a prominent independent film and TV producer. For personal enjoyment, Newhart and a co-worker would have long phone calls about absurd scenarios. He later recorded these, even after the co-worker left, to perfect his comedic routine. When a friend introduced Newhart to the Head of Talent at Warner Bros Records, his tapes were all it took to get him signed in 1959.
With his comedy star rising, Newhart developed a comedy variety show on NBC. However, it only ran from 1961 to 1962 though it did earn an Emmy and a Peabody. Success came ten years later when he was approached by his agent and Mary Tyler Moore, among others, to produce his own show. The show followed Newhart as Bob Hartely, a psychologist, his wife played by Suzanne Pleshette and interactions with his family, friends and patients. The cast of character actors included Jack Riley, Marcia Wallace, and Bill Daily. It ran on CBS from 1972 through 1978 to great success. Accolades included two Emmy noms (Outstanding Comedy Series and for Pleshette for Best Actress in a Comedy Series) as well as 2 Golden Globe noms for Best TV Actor Musical/Comedy in 1975 and 1976. It was also named 49th in 60 Best TV Shows by TV Guide in 2013.
This October we are proud to join a new Pluto TV channel alongside two television pioneers who started their careers off on The Ed Sullivan Show. Witness the likes of Johnny Carson, Carol Burnett, and The Ed Sullivan Show on the new 'Classic Variety TV' channel now streaming on Pluto TV.
We hope you've enjoyed a deeper dive into just some of the many icons that have gone on to do major projects after their appearances on the Sullivan stage. Not to be left out there were so many others who became superstars with their own shows: Jackie Gleason, Red Skelton, Desi & Lucy, Diahann Carroll, Jack Benny, Roy Rogers and Dale Evans, just to name a few. You can catch these entertainers, and many more, by checking out our socials and subscribing to our YouTube channel.