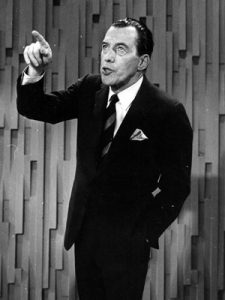 Here are some of the classic Ed Sullivan quotes from the variety show's 23 year run:
"Ladies and Gentlemen…The Beatles!" – Introducing The Beatles on The Ed Sullivan Show on February 9, 1964.  This was The Beatles first live television performance in the USA.
"I wanted to say to Elvis Presley and the country that this is a real decent, fine boy, and wherever you go, Elvis, we want to say we've never had a pleasanter experience on our show with a big name than we've had with you. So now let's have a tremendous hand for a very nice person!" – Ed Sullivan complimenting Elvis Presley following the last Elvis performance on The Ed Sullivan Show.
"The little fella in front is incredible." – Ed Sullivan talking about Michael Jackson following the first performance by The Jackson 5 on The Ed Sullivan Show.
"Tell me, Connie, is your mother still dead?" – Ed Sullivan talking with Connie Francis.
"Coincidentally, if anyone has a ticket for The Beatles on our show next Sunday, could I please borrow it? We need it very badly." – Ed Sullivan asking his audience for a little help a week before The Beatles 1st performance on The Ed Sullivan Show.
"You boys look great, [but] you ought to smile a little more." – Ed Sullivan speaking backstage with Jim Morrison and the band before The Doors performance on The Ed Sullivan Show.
"Steven Presley Allen, NBC TV, New York City. Stinker. Love and kisses. Ed Sullivan." – A telegram Ed Sullivan sent Steve Allen on the Monday following Elvis' highly rated appearance on NBC's Steve Allen Show, which aired opposite CBS's The Ed Sullivan Show.
"Just before Nat went to Europe, we had him on our stage here, and I told him then – very sincerely – it's always a great thrill to have him on our stage because I've never met a finer artist or a finer human being. Here, Nat is a plaque from the Board of Managers of the Harlem Branch of the Young Men's Christian Association of the City of New York. I love the first line on this: 'Because he is a king who has not lost the common touch.'" – Ed introducing Nat King Cole on The Ed Sullivan Show in 1954.
"Before even discussing the possibility of a contract, I would like to learn from you, whether your young men have reformed in the matter of dress and shampoo."  Ed Sullivan's response to a request by The Rolling Stones' manager for a contract for a second appearance by The Stones on The Ed Sullivan Show.
"And now, before I bring on, the 4 Seasons, incidentally, well, I'll talk to them later.  Before I bring on the 4 Seasons, uh they just came down from upstate where they just played an engagement this afternoon.  Before I bring them on, I uh… You all ready fellas?" – Ed Sullivan attempting to introduce the 4 Seasons who were running a little behind for their October 2, 1966 appearance.
"Couple of weeks ago I went up in Harlem, I'd seen these shots in the newsreels of thousands of people jamming the streets around Frank Shipman's Apollo Theatre, all trying to get in to see Dr. Jive's.. roll rhythm and uh, rhythm and roll.  Rhythm and color.  Rhythm and blues." – Ed Sullivan mixing up the name of the musical genre when introducing Bo Diddley on The Ed Sullivan Show on November 20, 1955.
"My little Chickadees…QUIET!" – Ed Sullivan's May 2, 1965 outburst after being interrupted by screaming Rolling Stones fans when he tried to talk about the next week's show.
"Eddie, kiss me goodnight." – Topo Gigio in almost all of the little Italian mouse's appearances on The Ed Sullivan Show.