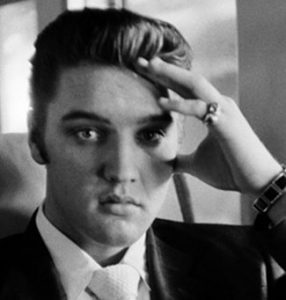 This past Monday The Rock and Roll Hall of Fame unveiled "ELVIS 1956: Photographs by Alfred Wertheimer." The exhibit features roughly 40 photos documenting Elvis Presley's rise to fame in the year 1956.
Alfred Wertheimer was sent to cover the 21-year-old Elvis Presley in January 1956.  This coincided with Presley's debut single "Heartbreak Hotel" and his first national television appearance on The Tommy and Jimmy Dorsey Stage Show.  As the year progressed, Elvis's national popularity was on the rise as he made television appearances on The Milton Berle Show, NBC's Steve Allen Show and finally, on September 9th, 1956, The Ed Sullivan Show, in which 60 million viewers tuned in (For video of these Elvis Presley's performances on The Ed Sullivan Show be sure to check out Elvis Presley – The Sullivan Shows). During this whirlwind year, Wertheimer was able to capture candid moments of the young rock 'n roll artist from Presley riding a Harley-Davidson to his bumps and grinds during a performance of Hound Dog on The Milton Berle Show.
Following 1956, Elvis Presley would be photographed everywhere he went.  He would go on to become a global legend and the best selling solo artist in the history of popular music.
Alfred Wertheimer's photographs are so unique because they capture the transition of Elvis from a relatively unknown performer to a household name.  Wertheimer provides a glimpse into a defining time for rock 'n roll's most enduring figure.
The Rock and Roll Hall of Fame exhibit, which also features over 30 artifacts from Elvis' life on loan from Graceland Archives, will run from September 13, 2010 to January 2, 2011.