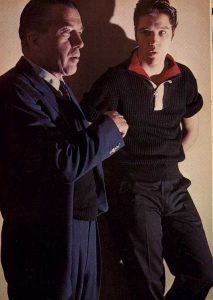 On this day in 1956, Elvis Presley stepped on The Ed Sullivan Show stage and made music history with his iconic performance of "Hound Dog."
The date was October 28th, 1956. Elvis Presley was in New York to make his second of three appearances on The Ed Sullivan Show.  Ed actually did not host Elvis' first appearance (British actor Charles Laughton filled in) as he was recovering from injuries he sustained in a horrible car crash.  Following an innocent act by an Irish children's choir called The Little Gaelic Singers, Elvis Presley took the stage and sang, "Don't Be Cruel" and "Love Me Tender." After Señor Wences's ventriloquism act, Elvis returned to perform "Love Me." During this song the camera moved in for a close-up of Elvis' face, and then, as if on cue, he smiled and snarled his upper lip. The studio audience went wild. Elvis closed that evening with the performance of his hit, "Hound Dog." Here is a clip of the unforgettable act:
Following the broadcast, which enjoyed huge ratings, Elvis was burned in effigy by angry crowds in Nashville and St. Louis. The popular press was also critical of his style and movements. Rock and roll was increasingly attacked and there was growing opposition to its supposedly negative influence on America's youth. The more the establishment pushed back, the more Elvis's support grew from millions of teenagers.
For Elvis' final Ed Sullivan Show appearance on January 6th, 1957, Ed actually went out of his way to compliment Elvis stating: "I wanted to say to Elvis Presley and the country that this is a real decent, fine boy, and wherever you go, Elvis, we want to say we've never had a pleasanter experience on our show with a big name than we've had with you. So now let's have a tremendous hand for a very nice person!" With that endorsement, Elvis Presley bowed, was clearly appreciative and exited the Sullivan stage for the last time.