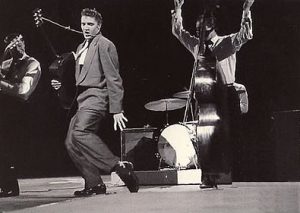 On August 2, 2011, Elvis Presley: The Great Performances will be re-released with over 2 hours of remastered video, new packaging and never-before-seen interviews with legendary artists such as Jerry Lee Lewis and Carl Perkins along with others who were close to the beloved and undisputed King of Rock 'n Roll.  The 2 disc set includes classic performances spanning Elvis Presley's entire career – from his first televised performance to a concert just weeks before his death on August 16, 1977.
Footage has been mined from television shows, films, personal home movies to provide a revealing look into Elvis Presley's life both on and off stage.  One of the real highlights of this collection are the previously un-released bonus interviews with rock icons Lewis and Perkins, Sun Records head Sam Phillips, drummer D.J. Fontana, guitarist Scotty Moore, Jordanaires singer Gordon Stoker, and television host Milton Berle, on whose show Elvis  appeared twice in 1956.
The release of Elvis Presley: The Great Performances DVD Collection has been scheduled to coincide with Elvis Week 2011.  During one of the events that week the top five performances from Elvis Presley The Great Performances voted on by fans will be shown at The Orpheum theater!
Tracklist for Elvis Presley: The Great Performances:
Volume 1 – Center Stage
Money Honey (Dorsey Bros. TV Show)

             

That's All Right (Mama)(Studio Recording)

                    

I Want You, I Need You, I Love You (Steve Allen TV Show)

     

Blue Suede Shoes (Studio Recording over Screen Test)

         

Love Me Tender

(

Love Me Tender

Movie)

           

Heartbreak Hotel (Milton Berle TV Show)

             

Ready Teddy (Ed Sullivan TV Show)

    

Teddy Bear (

Lovin' You

Movie)

                  

King Creole (

King Creole

Movie)

                

Jailhouse Rock

(

Jailhouse Rock

Movie)

           

Guitar Man (Elvis – Comeback Special)

          

Suspicious Minds (Elvis – That's The Way It Is)

     

Unchained Melody (Elvis In Concert)

            

All Shook Up (Elvis – Comeback Special)
Bonus Material:
Working With Elvis – D.J. Fontana, Scotty Moore, Gordon Stoker, Milton Berle
Volume 2 – The Man And The Music
American Trilogy (Aloha From Hawaii)

           

My Happiness (Studio Recording)

                

Shake, Rattle, And Roll/Flip, Flop And Fly (Dorsey Bros. TV Show)

 

Blue Suede Shoes (Milton Berle TV Show)

             

Don't Be Cruel (Ed Sullivan TV Show)

      

Got A Lot O' Livin To Do (

Lovin' You

Movie)

Trouble (

King Creole

Movie)

                    

Mean Woman Blues (

Lovin' You

Movie)

            

Treat Me Nice (

Jailhouse Rock

Movie)

           

G.I. Blues (

G.I. Blues

Movie)

                       

Fame And Fortune (Welcome Home, Elvis)

         

Return To Sender (

Girls, Girls, Girls

Movie)

        

Memories (Studio Recording over Home Movies)

             

You Gave Me A Mountain (Aloha From Hawaii)

     

Always On My Mind (

Elvis On Tour

Movie)

                  

If I Can Dream (Elvis – Comeback Special)

           
Bonus Material:
Memories Of Elvis – Jerry Lee Lewis, Carl Perkins, Sam Phillips