The Ed Sullivan Show welcomed talent from all realms including the world's greatest sports figures and Olympians. In honor of the upcoming 2020 Tokyo Summer Olympics, we've decided to pay homage to the many Olympic champions who appeared on the show.
Muhammad Ali
On February 3, 1963, Muhammad Ali appeared on The Ed Sullivan Show for the first time. To date , Ali had not yet won the heavyweight world title. But, three years prior Ali had achieved a major milestone winning a gold medal in the light heavyweight division at the 1960 Summer Olympics in Rome, Italy. On the show that February evening, Ali, then still using his birth name of Cassius Clay, joked around with Ed about his upcoming bout with Doug Jones before showing off a magic trick. When asked how many rounds it would take for Ali to knock Ed Sullivan out, Ali responded, "Well Ed, if you run I will have to cut it to one!" Just a year after his first appearance on Sullivan, Ali fought the then heavyweight champion Sonny Liston for the heavyweight title, which he won. This was Ali's first world heavyweight title. On January 18th 1970, Ali returned to The Ed Sullivan Show. This time not to talk about his boxing career, but to perform a scene from the Broadway musical in which he starred, "Big Time Buck White." Ali and the cast of the musical performed the number "We Came In Chains" in colorful outfits and timely afro hairdos.
Jesse Owens
On June 8, 1952, Jesse Owens flew from Chicago to New York City to appear on Ed Sullivan's Toast of the Town. Owens was already a 4 time Olympic gold medalist having won four medals at the 1936 Summer Olympics in Berlin, which were already controversial being held under the influence of the Nazi regime. Following Owens' show introduction, he stated that "The Olympic Games is the major leagues of any amateur athlete. Once he has made the Olympic team he can count his athletic career a great success." Owens goes on to recount that many years ago Ed wrote a magazine column about him saying, "I remember the days you used to write columns, and the things you used to write. I remember 17 years ago you wrote one about me called 'The Black Bird,' I shall never forget it. But to me, the Olympic Games was the thing I look forward to, and winning the 100m was the greatest thing that ever happened to me in my athletic career." Six years later, Owens returned to the show on March 16, 1958 to be presented with the Performance Championship Award for his athletic performance between 1930 and 1945. Owens also was given a set of gold keys to a new 1958 Mercury, the show's sponsor.
Joe Frazier
On February 15, 1970, Boxing champ Joe Frazier made his singing debut on The Ed Sullivan Show. Frazier was the current Heavyweight champion of the world as well as an Olympic gold medalist from the 1964 Summer Olympics in Tokyo. At the 1964 Olympic Games Frazier was, fortunately for him, a replacement due to another boxer's injury. Frazier ended up being the only American boxer left in the semifinal! For Frazier's debut on Sullivan he sang "Knock On Wood" accompanied by The Knockouts in a staged boxing ring. Joe tapped and sang his heart out for the enthusiastic New York crowd. Following his debut Sullivan asked, "How do you feel on the eve of a fight?" Frazier responded, "Well, sometimes it gets a little nervous you know, like more ready to go. But by the time you get in the ring and throw a punch, everything's all over." After their chat Sullivan shook his hand and wished him well in his upcoming fight. Sullivan then turned and told the audience, "He damn near crushed my hand." The very next day Frazier fought Jimmy Ellis for a second Heavyweight world title at Madison Square Garden and won the fight via stoppage.
Hal Connolly & Olga Fikotova
On April 28, 1957, Olympic gold medalist's Olga Fikotova & Hal Connolly appeared on The Ed Sullivan Show. Fikotova and Connolly met while competing in the 1956 Summer Olympics in Melbourne, Australia. Fikotova won in discus throwing and Connolly beat his competition in hammer throwing. They married the following year. Media outlets around the globe covered their very public marriage because they were two Olympic gold medalists from opposing political viewpoints, she from the Czech Republic and he from the U.S. When they appeared on Sullivan, Ed introduced them by saying they had "one of the nicest love stories that ever came out of sports." The three had a pleasant, but brief conversation on stage about Olga getting her U.S. Visa only three days before being on the show. The audience loved seeing the couple proving love does conquer all our differences!
Jean-Claude Killy
On January 5, 1969, Jean-Claude Killy was sitting in the audience at The Ed Sullivan Show. Halfway through the show Ed tells the audience that Olympian Jean-Claude is sitting among them and asks him to take a bow. Ed introduced Jean-Claude as "the greatest skier in the world" and gave a brief background on Killy telling the audience that he started skiing when he was only three and won his first competition at five. Jean-Claude won a total of three Olympic gold medals at the 1968 Winter Olympic Games in Grenoble, France. In addition to his Olympic medals Jean-Claude has also won 12 World Cup races throughout the 1966-1967 season.
Duke Kahanamoku
On July 31, 1966, Hawaiian swimming and surfing legend Duke Kahanamoku made his fourth and final guest appearance on The Ed Sullivan Show. Duke was definitely no stranger to the show since making his first appearance back on Toast Of The Town. Ed would always be sure to introduce Duke as the best swimmer ever! Duke competed in three different Olympic Games winning a total of five medals, three gold and two silver. Kahanamoku also excelled at surfing, and he became viewed as one of the icons of the sport. Duke Kahanamoku was the first person to be inducted into both the Surfing Hall of Fame and the Swimming Hall of Fame. After Duke's successful career he toured the world giving swimming exhibitions and starring in several motion pictures. To commemorate his legacy there is a chain of restaurants named after him in California, Florida and Hawaii called Duke's.
Sonja Henie
On April 17, 1949, world championship ice skater Sonja Henie made her first appearance on The Ed Sullivan Show then known as Talk of the Town. Before Henie walked on stage, Ed introduced her as "one of the greatest champions the world ever produced, one of the greatest names in ice skating." Henie is a three time Olympic gold medalist and sixteen time World Champion. Henie won her Olympic medals in three separate Winter Olympic Games. She competed with the best and came out victorious. After Ed and Henie exchanged a few words Ed suggested, "I thought you'd sit down with me and we'd work with the magician" who was the next act. The two sat on stage and helped the magician with his card tricks.
Eddie Eagan
On March 11, 1956, Olympic gold medalist Eddie Eagan accompanied by actress Cyd Charisse presented Mr. Sullivan with a plaque for his great work with the Olympics. Eagan said "I want to present to you for your constant cooperation with the Olympic cause this plaque, to keep the sacred flame alive, we need a lot of people like you to help our boys and girls." Eagan was both a boxer and a bobsledder. Eagan won his Summer gold in boxing at the 1920 Olympics in Antwerp, Belgium. Eagan won his second gold in the four-man bobsled event at the 1932 Winter Olympics at Lake Placid, New York . Finally, Eagan is one of the few athletes who have competed in both the Summer and Winter Olympic Games.
Tenley Albright
On March 11, 1956, The Ed Sullivan Show broadcast from Rockefeller Center in New York City. In this episode Olympic gold medalist Tenley Albright showed her skills on the ice in two captivating back-to-back performances. She skated to "Barney the Bashful Bullfrog" and "Lovely Day Today." After her amazing performance she skated over to Ed and commented, "First of all I don't think it's really fair that you don't have skates on this evening!" The two joked around and Ed wished her his best in her upcoming skating competitions. Albright has both an Olympic Gold & Silver medal from the Winter games of 1952 and 1956.
Rafer Johnson
On June 24, 1956, Ed Sullivan traveled to UCLA in Westwood, California. During his visit he took a tour around campus and ended up meeting some of UCLA's star athletes. Ed, being a former sports writer, was delighted to meet outstanding future prospects. Among these athletes was none other than Rafer Johnson. Johnson was a star athlete at UCLA playing basketball and competing in track & field. Johnson brought the first ever NCAA championship for track and field to UCLA when he helped win the title in 1956. That same year Johnson won a Silver medal in the Olympic decathlon in Melbourne. Four years later at the Olympic Games in Rome Johnson reached the pinnacle of his Olympic achievements and won his Gold medal. Following his athletic career, Johnson was instrumental in creating the California Special Olympics in 1969.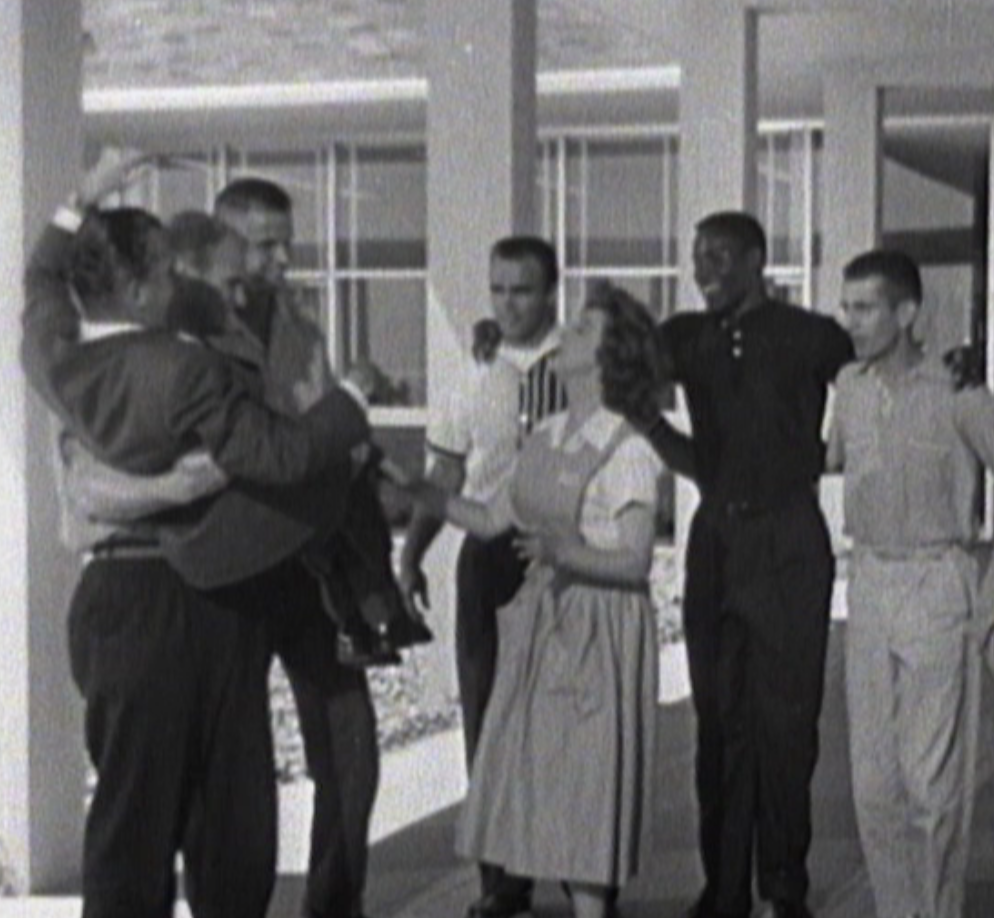 We hope you appreciate this deep dive into a few of the many Olympic athletes that appeared on The Ed Sullivan Show. Don't forget to subscribe to our YouTube channel and remember to tune in to the Summer Olympics.