Earlier today it was all over the news and blogosphere that Jim Morrison is about to receive a posthumous pardon almost 40 years after being convicted of exposing himself on stage during The Doors 1969 show at Miami's Key Auditorium. That got me thinking about the band and their controversial Ed Sullivan Show performance in 1967:
On the afternoon of September 17th 1967, The Doors were in CBS's Studio 50 rehearsing for that evening's live performance on The Ed Sullivan Show. Shortly after they finished, and with only about 15 minutes before air, Ed Sullivan came back to The Doors' dressing room and said, "You boys look great, [but] you ought to smile a little more." The comment was a little odd coming from Ed who, of course, was sometimes known as "the great stoneface".
After Ed stopped by, a producer from the show came into The Doors' dressing room. He told the group they needed to change a line in the song, "Light My Fire," specifically the lyric, "Girl, we couldn't get much higher." He explained the word "higher" was inappropriate for a family show on national television because of its association with illegal drug use. Though Jim Morrison was furious and adamant about not changing the song, the group relented and told the executive they would alter the lyrics as requested. However, as soon as the producer left the room, Morrison declared, "We're not changing a word."
The band, being the last act of the evening, had to wait for about an hour before going on. During that time, Manzarek remembers a nervous comedian sweating and pacing backstage as he prepared to perform his routine before the live national audience. That man, Manzarek later found out, was none other than Rodney Dangerfield.
Following Dangerfield's act, The Doors took the stage to perform two of their biggest hits. Ed's introduction was short and simple, "Now, The Doors…here they are with their newest hit record, "People are Strange." Against a hanging backdrop composed of an assortment of actual doors, the band opened to the screams of adoring fans. Morrison sang the haunting number with a vacant look in his eyes. Immediately following that song the band segued into their number one hit, "Light My Fire."
When it came time for the line, "Girl, we couldn't get much higher," Morrison, the unyielding poet and uncompromising artist, sang it just as it had been written. As he finished the now infamous lyric, the camera caught guitarist Robby Krieger with a quick but telling smirk. But Sullivan's producer and CBS executives were not smiling.
Following The Doors' performance the ever gracious yet stoic Sullivan can be seen clapping his hands and mouthing the words, "That was wonderful. Just great!" to the band. But instead of shaking hands with the group, he went straight to a commercial for Purina Dog Chow.
Backstage, the show's producer was furious and told the band "Mr. Sullivan wanted you for six more shows, but you'll never work The Ed Sullivan Show again." To which Morrison purportedly replied, "Hey, man. We just did the Sullivan show."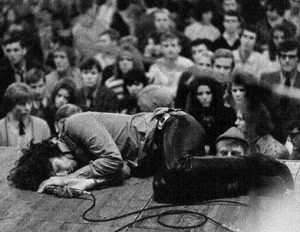 Here is a rare clip of The Doors Ed Sullivan Show performance when the band was at their peak: