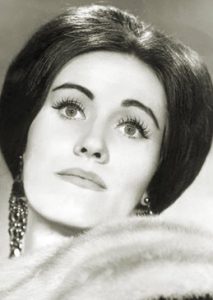 Joan Sutherland, a flawless soprano world renowned for her power and range, passed away on October 10, 2010 at the age of 83. The Australian born opera singer, labeled "La Stupenda," was a draw at the most legendary opera houses including La Scala, La Fenice, The Royal Opera House and The Metropolitan Opera. Sutherland's performances of the beautiful arias by composers like Verdi, Donizetti and Bellini, marked by her enormous range, effortless flights and expressive, vibrant sound, earned her standing ovations around the world.
Born Nov. 7, 1926, in Australia, Sutherland was trained as a child by her mother, a mezzo-soprano who had studied with the famed Mathilde Marchesi. The young Joan regularly practiced the same Marchesi exercises that built the career of many a stunning coloratura. Later she began lessons in Sydney with vocal coaches John and Aida Dickens, who convinced her that she was a dramatic soprano. Sutherland began singing oratorios and radio broadcasts and made a notable debut in 1947 as Purcell's Dido in Sydney. Upon winning an Australian vocal competition in 1951, she moved to London to continue vocal studies. After multiple auditions she was accepted into the Royal Opera at Covent Garden.
Sutherland's career-defining performance was in the title role of "Lucia di Lammermoor" at Covent Garden in 1959. Her dramatic portrayal of the young unstable bride of Lammermoor paired with the brilliance of her extraordinary voice launched her to international fame.
While Joan Sutherland debuted in the USA at the Dallas Opera in 1960,  most of the country first witnessed her magnificence when she made her American TV debut on The Ed Sullivan Show on December 3, 1961.  That evening she performed "Quando Rapido" from Donizetti's "Lucia di Lammermoor." Sutherland would return multiple times throughout the decade to wow Sullivan audiences with arias by Verdi and Donizetti, including this beautiful performance of "Ardon Gl'insensi" as Lucia from "Lucia di Lammermoor":
Sutherland was well respected by her peers in the world of Opera. Catalan soprano Montserrat Caballé described the Australian's voice as being like "heaven" and Luciano Pavarotti once called Sutherland the "Voice of the Century." After hearing her New York debut in "Beatrice di Tenda," renowned Brazilian soprano Bidú Sayão, known herself for the sheer beauty of her voice, said, "If there is perfection in singing, this is it."
Although Joan Sutherland has passed away, the Australian star leaves behind an extraordinary musical legacy that will not soon be forgotten.
For more great performances by Joan Sutherland on The Ed Sullivan Show, along with other opera legends such as Beverly Sills, Maria Callas and Robert Merrill, please check out this DVD of Great Moments in Opera.