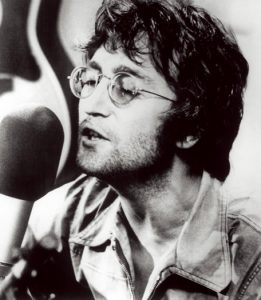 Today we celebrate what would have been Beatles musician, John Lennon's, 70th birthday. During his life, Lennon made contributions not only to music, but also to literature, art and political activism. It has been 30 years since the musician was killed outside his New York apartment, but his legend and influence have continued to live on.  Lennon's lyrics have a way of connecting with the masses and remaining relevant, making him one of the most influential musicians of our time.
In further testament that the significance of John Lennon lives on, his birthday will be celebrated throughout the world today. Fans in New York will visit Central Park's peaceful Strawberry Fields before attending a benefit concert in Manhattan.  There are planned events throughout Lennon's birthplace of Liverpool, including a birthday celebration at the famous Cavern Club – where the Beatles played some of their earliest shows. In Iceland, Yoko Ono will present the Lennon Ono Grant for Peace to figures with important contribution to world peace and she will switch on the Imagine Peace Tower, a memorial that will remain lit until December 8, the anniversary of Lennon's passing.
As the world takes today to remember this legendary figure let us all keep in mind Lennon's message of unity and peace.  Happy Birthday John Lennon.