This week in 1958, Johnny Cash, one of America's most prolific yet controversial music icons, signed a recording contract with Columbia Records.  Cash's move from Sun, the independent label known for producing Elvis Presley, was fueled by the decaying promotional support given to his material.   Despite the success of Cash's No. 1 single "I Walk the Line," studio owner Sam Phillips began putting precedence on Jerry Lee Lewis, pushing his new recordings more than any other artist at the label.  This neglect and contractual deterrence he felt while recording under the label's banner made Cash leave to start what would become a 30-year career at Columbia.  On February 8th, 1959, Johnny Cash appeared on The Ed Sullivan Show to perform his first Columbia hit single "Don't Take Your Guns To Town."
As with Elvis, Cash's childhood musical inspiration stemmed primarily from Gospel.  Irish influence rubbed off on Cash as well, he would often listen to Dennis Day perform weekly on Jack Benny's radio cast.  Under the tutelage of his mother and a close friend, Cash began playing guitar and eventually was able to sing on the radio during his high school years.   Cash enlisted in the United States Air Force after graduation and became a code intercept operator for Soviet Army transmissions.  Honorably discharged from the military in 1954, he moved to Tennessee with his first wife Vivian to seek out a recording contract with Sun Records.
Sun Records released seven albums by Cash, five of which were put out after he had left the label.  Cash released three No. 1 studio albums while at Columbia, Man in Black, Hello I'm Johnny Cash, and I Walk The Line, the latter which consisted of re-recorded versions of songs during his period at Sun Records.  Cash's most successful releases, recorded while at Columbia, were his live albums Johnny Cash from Folsom Prison and Johnny Cash from San Quentin, both were certified triple platinum by the RIAA and reached No. 1 on the US country charts.  Cash had always stated that he had great compassion for prisoners. This may have been a result of the fact that he had spent a short amount of time in jail himself.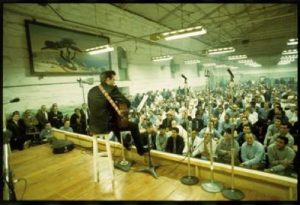 Over his lifetime, Cash has received numerous awards and achievements for his contribution to the music industry, including 17 Grammy Awards and 9 Country Music Association Awards as well as induction into both the Rock and Roll Hall of Fame in 1992 and the Songwriters Hall of Fame in 1977.  Cash was also credited as a member of the Million Dollar Quartet after he, Elvis Presley, Jerry Lee Lewis, and Carl Perkins held an impromptu jam session at Sun Records.  Towards the end of his career Cash began covering other artists work and received critical acclaim for his renditions of such songs as Soundgarden's "Rusty Cage" and Nine Inch Nail's "Hurt," the latter for which he received a Grammy Award.  Cash passed away at the age of 71 on September 12th, 2003. While gone, his legacy and music will always live on.