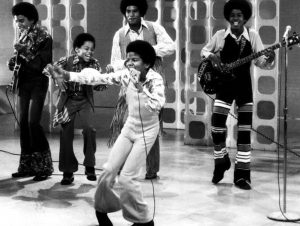 On December 14, 1969 The Ed Sullivan Show introduced the country to Michael Jackson and the rest of The Jackson 5.  These brothers from Gary, Indiana with their sound and magnetic energy would go on to capture the hearts of fans of all ages around the world.
Ed Sullivan had taken notice of The Jackson 5 when their debut single started climbing the charts in 1969. Always a supporter of Motown, Ed wanted to book the boys on his show. He and Berry Gordy came to an agreement and The Jackson 5 was booked to appear on The Ed Sullivan Show December 14, 1969.
That evening, Ed Sullivan introduced The Jackson 5 as "a sensational group" and the brothers took the stage to sing Sly and the Family Stone's "Stand." The song, which included a charming dance number, was packed with feeling. Following that, an adorable Michael Jackson, donning a striking bright purple hat and vest, told a story about a girl he met in the sandbox at school, leading into Smokey Robinson's "Who's Loving You." Michael really showed off his vocal range in that number. The third song of the set was The Jackson 5's first hit single "I Want You Back." The song dazzled and amazed the audience. Ten-year-old Michael had a confident smile and attitude paired with an incredibly soulful voice and impressive dance moves. He had a special sparkle in his eye and looked incredibly at home performing on stage. That evening, Ed was awed by Michael's enormous talent and clearly took a liking to him stating, "The little fella in front is incredible."
On May 10, 1970 The Jackson 5 returned to New York to appear for a second time on The Ed Sullivan Show. Styled in colorful shirts, bell bottoms, fringed suede vests and platform shoes, the boys came on stage and sang two of their hits "I Want You Back" and "ABC," before closing the evening's show with   "The Love You Save." The group's performance that night was well coordinated, polished and packed with energy.
The Ed Sullivan Show was a major career-booster and elevated the group's national profile to another level. This was accompanied by a bustle of media coverage that celebrated the discovery of the music industry's new darlings. The charming performers had mesmerized and captivated fans and the media.
The Jackson 5 would be the last "big stars to come rolling off the Motown assembly line" during Berry Gordy's ownership of the record label.  By the mid 1970s, Michael Jackson began to pursue a solo career and by 1982 released the LP Thriller which would go on to become the world's best-selling album of all-time.  Both the success of The Jackson 5 and Michael are a true testament to the music legacy of the Jackson family.