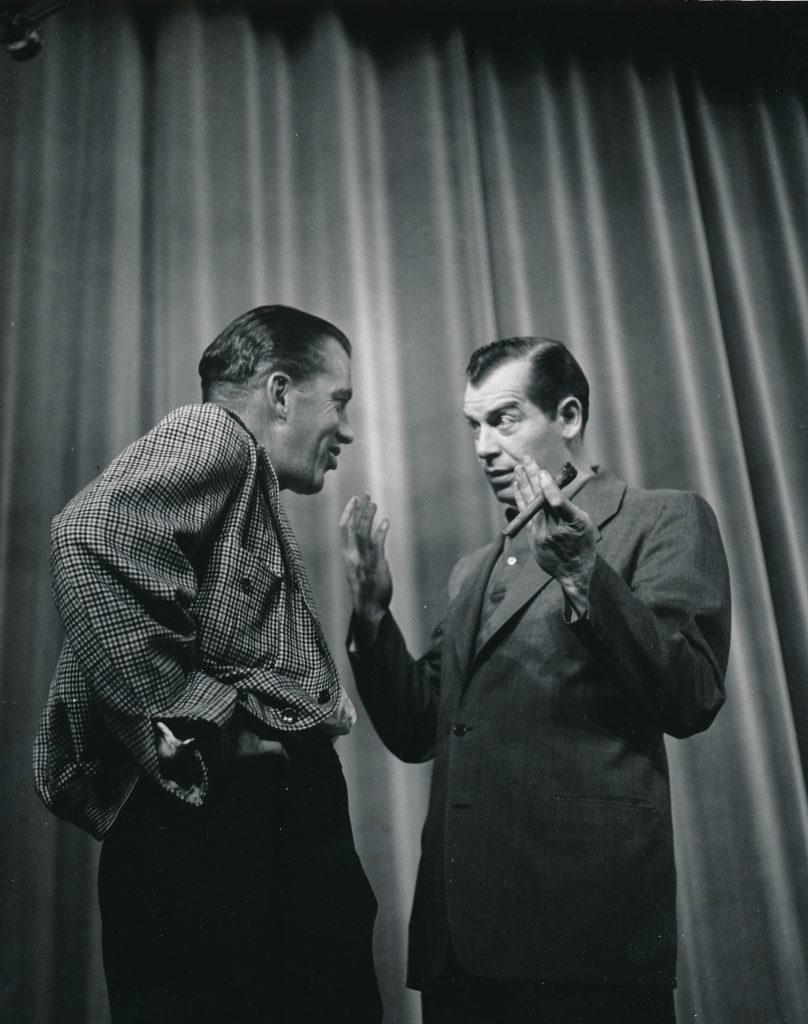 Milton Berle, whose career as a comedian spanned vaudeville, radio, television, and film, was born Mendel Berlinger on July 12, 1908 in New York City. He started his career at the age of five, when he appeared in the silent film "The Perils of Pauline" after winning a Charlie Chaplin look-alike contest. At the age of 10 began getting parts onstage, and by his late teens was a master of ceremonies in vaudeville.  By the 1930's, Berle had become a successful stand-up comedian. His growing popularity led to hosting a radio show, Broadway appearances and numerous film roles. Berle's biggest success, however, did not come until 1948 when he was chosen to emcee the variety show Texaco Star Theater (later The Milton Berle Show). The show rapidly climbed to the top of early television ratings, competing with other successful shows like The Toast of The Town, which later became The Ed Sullivan Show.
It is said that Milton Berle's show became so popular that it was the motivation for most Americans to purchase their first television set. This popularity earned him the nicknames Mr. Television and Uncle Miltie.
Just like many other successful entertainment personalities of the time, Berle was invited to perform on The Ed Sullivan Show.  On April 9th 1950 Milton Berle appeared on The Ed Sullivan Show for the first time, and was the guest host of that episode.  On later shows, he would interrupt an act with one-liners and his trademark rushed style slapstick routines as well as make fun of Ed Sullivan.
In the late 1960's, unable to find or accept other television work due to his contract with NBC for The Milton Berle Show, he returned to performing in nightclubs, appeared in Broadway musicals such as in Herb Gardner's "The Goodbye People," and starred in many films (mostly as himself).
After The Milton Berle Show ended, Berle never again starred in a successful television show; however, he appeared as a guest star on more than fifty shows through the 1990's. In the 1980's and 1990's he presided as the master of ceremonies for many Friar's Club comedy roasts and other gatherings.
Milton Berle is undeniably one of the first great superstars of the television age. Berle was one of the initial seven inducted to the Television Academy Hall of Fame in 1984. He died of colon cancer in March of 2002, at the age of 93.
Milton Berle performed a comedy act alongside trumpet player Leonard Sues on The Ed Sullivan Show on November 5th, 1950. This performance is available on the "All Star Comedy from The Ed Sullivan Show" DVD.