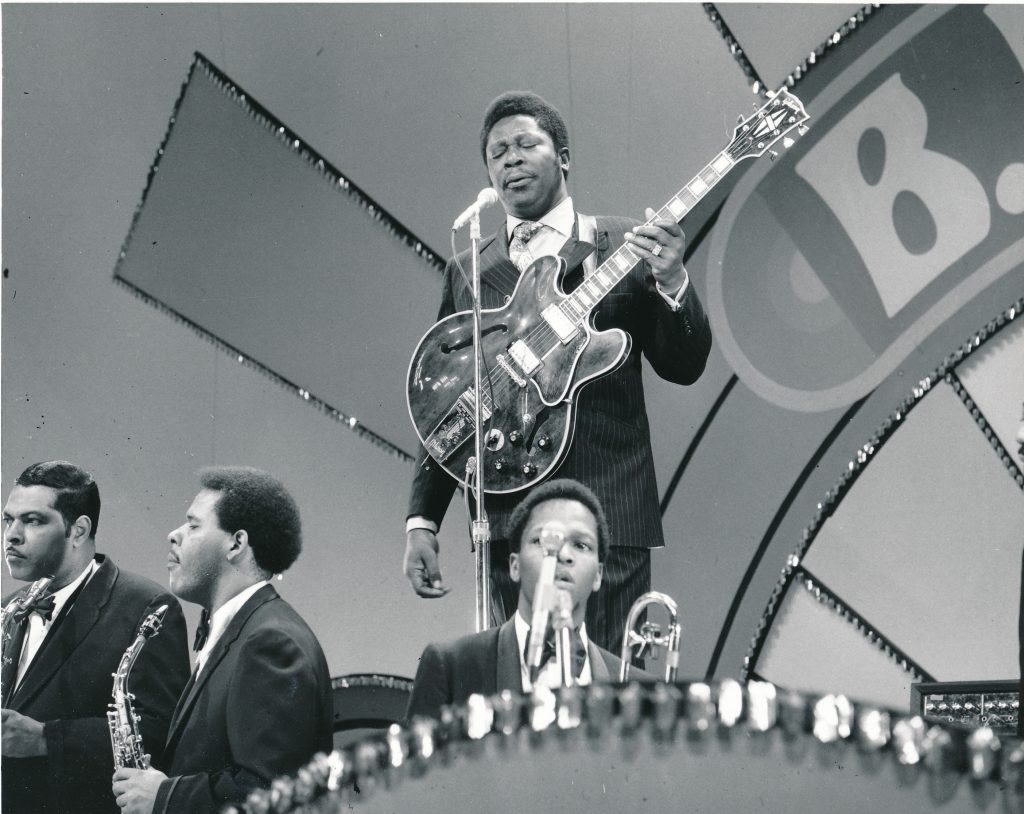 We are deeply saddened at The Ed Sullivan Show and SOFA Entertainment to have learned of the passing of legendary Blues musician B.B. King. While his career accolades were highlighted by a slew of awards, including a lifetime achievement award and 15 Grammy wins, King's influence travels well beyond the hardware. His scintillating guitar skills matched with his emotionally raw vocals brought Blues to the apex of popularity, casting a widespread following and influence among fans and musicians, including Eric Clapton and Jimi Hendrix.
King's passion for music and performing never wavered with age as he toured well into his 80's despite chronic health issues. Early on in his career, he became known for putting his life on the line for the love of his music. As the story goes, while performing at a dance hall in Twist, Arkansas in the early 1950s, two men got into a fight and knocked over a kerosene stove igniting a fire. After evacuating the building, King realized he left his guitar inside and risked his life to retrieve his beloved guitar. He learned the fight had escalated over a woman by the name of Lucille. From then on, King named his signature Gibson guitar Lucille.
B.B. King's only appearance on The Ed Sullivan Show was on October 18, 1970. In his autobiography, "Blues All Around Me," B.B. wrote: "National TV was a novelty for me, and the idea of appearing on Sullivan, the biggest show in the country, was frightening and thrilling. Two days of rehearsals meant lots of waiting, waiting, waiting. The rock 'n' roll and soul stars were used to national TV; they'd been playing American Bandstand for years. When it came to television, though, I felt like a virgin. This was live TV, and I was jumpy as a live wire. For 48 hours, I sweated it out. I was also squeezed between a bunch of other acts. George Burns was there, and the Carpenters, and Tony Bennett, and I can't remember who else. Couldn't concentrate on the comedy or the music 'cause I was too busy worrying how I'd do. I did fine. The applause was good."  King's first Grammy win came from his hit song "The Thrill is Gone" in 1970, which he performed on The Ed Sullivan Show.
B.B. King's performance on The Ed Sullivan Show is available for download on iTunes.