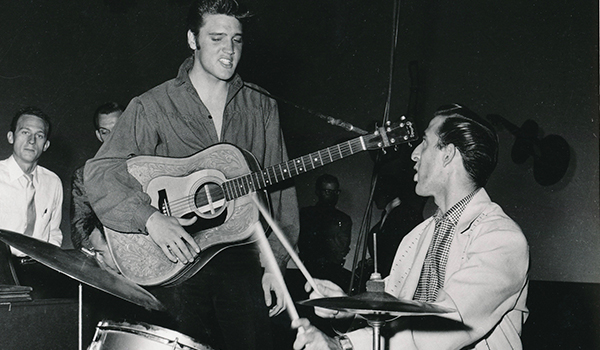 D.J. Fontana, the drummer and sole surviving member of Elvis Presley's band, has died at the age of 87.
Fontana was the first drummer in Presley's band and played on over 460 RCA cuts with him over their 14 years together, accompanying him on hits such as "Hound Dog," "All Shook Up," and "Blue Suede Shoes." He can also be seen playing with him in the movies Jailhouse Rock, Loving You, and G.I. Blues.
Fontana's presence behind the drum kit was revolutionary and helped shape the sound of rock 'n' roll as we know it. In 2009, Fontana was inducted into the Rock & Roll Hall of Fame.
Below, you can watch Elvis Presley performing "Hound Dog" with Fontana on October 28, 1956. Fontana is playing some of the most iconic drum rolls in history.