One of the most frequent guests on The Ed Sullivan Show was Italian tenor Sergio Franchi.
Sergio Franchi was born in Codogno, Italy in 1926, and made his singing debut at only 10 years old in a school play. In Italy, he sang with jazz groups and in 1947 he moved with his family to South Africa where he studied engineering while training in opera.
Within a few years Franchi's amateur singing led to leading roles in operas such as "La Traviata," "La Boheme" and "Carmen." After experiencing local fame, Franchi was encouraged to return to Italy and pursue a career in opera. However, fate intervened as other opportunities opened which propelled Franchi into popular music. In 1962, Franchi was discovered after appearing on a BBC television show. His appearance on British television led to an exclusive seven year contract with RCA Victor. RCA quickly began working on a huge campaign to launch Franchi's career in America, including a U.S. concert tour as well as several television performances.
Sergio Franchi arrived in New York in late September 1962, ready to begin his concert tour. Unknowingly, this would be the start of a very successful career in a country that would ultimately become his home.  A few days prior to his tour opening, Sergio Franchi made his American television debut on The Ed Sullivan Show on October 14, 1962. Ed Sullivan presented Franchi by saying "Now ladies and gentlemen, introducing to American TV a young Italian tenor star, who's giving a concert next Sunday at Carnegie Hall. Here is Sergio Franchi!" That night, Franchi shone on the stage as he sang "Core 'Ngrato."
The following Sunday, on October 21st, 1962, Franchi opened his American tour at Carnegie Hall in New York City, where he sang the entire concert without a microphone. His full volume trained operatic voice together with his charisma kept his audience engaged throughout the concert. Ed Sullivan was in the audience that night and immediately booked Franchi for future appearances, including a second TV appearance on his show the following week on October 28, 1962, where he performed "Funiculi-Funicula." Within a week of these initial debut performances, the feedback on sales of Franchi's first album "Romantic Italian Songs" were incredibly successful and by the end of that year the album peaked on the Billboard 200 at No. 17.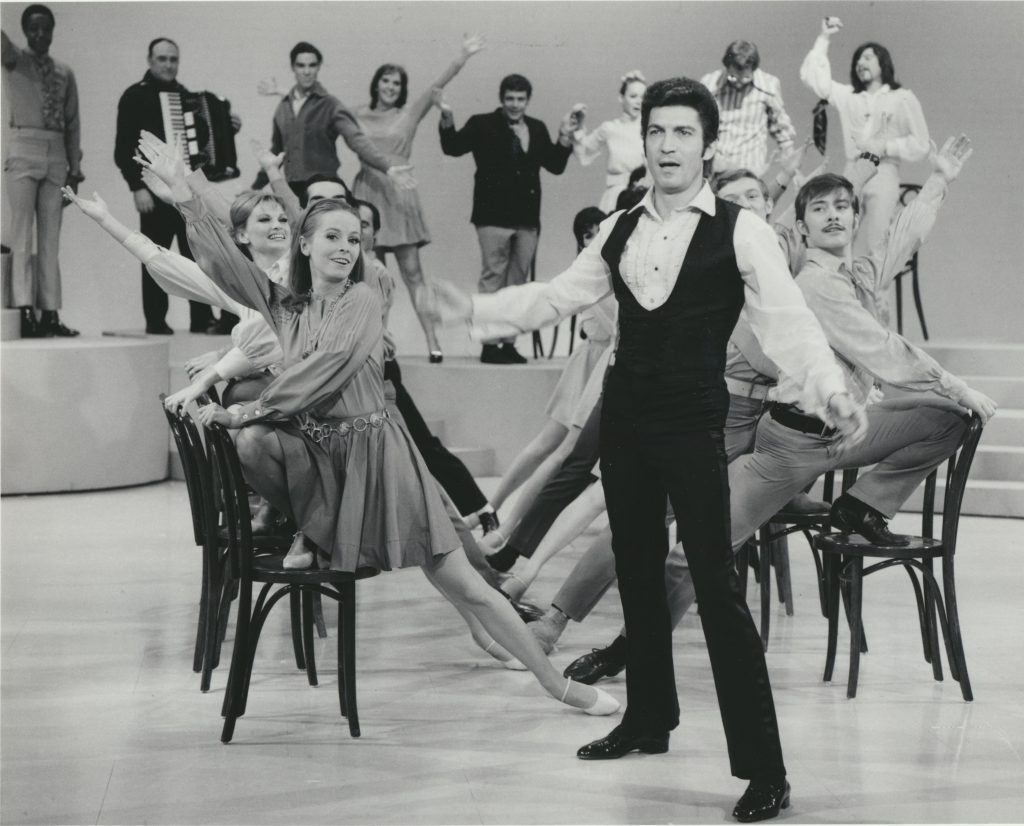 Sergio Franchi went on to become one of Ed Sullivan's favorite and most frequent guests with a total of 25 appearances between 1962 and 1971. His blend of pop music and a spectacular operatic voice along with his charm and tidy good looks made every single one of his Ed Sullivan performances memorable.
Sergio Franchi's appearances on The Ed Sullivan Show facilitated his rise to multi-media stardom in America.  During the span of his career, he was a prolific recording artist, an outstanding headliner in Las Vegas, a Broadway musical star and even starred in a major motion picture alongside Anthony Quinn, "The Secret of Santa Vittoria" in 1969. In 1972, he became an American citizen.
Franchi's performing career lasted thirty six fruitful years before his ill-fated death in 1990 due to cancer. After his death, his wife Eva Franchi formed The Sergio Franchi Music Foundation to award scholarships to young talented singers.
Sergio Franchi's many appearances on The Ed Sullivan Show, including a hilarious sketch with comedy duo Stiller & Meara from June 14, 1970, are available with re-mastered audio and high-quality video on the CD and DVD Sergio Franchi on The Ed Sullivan Show.