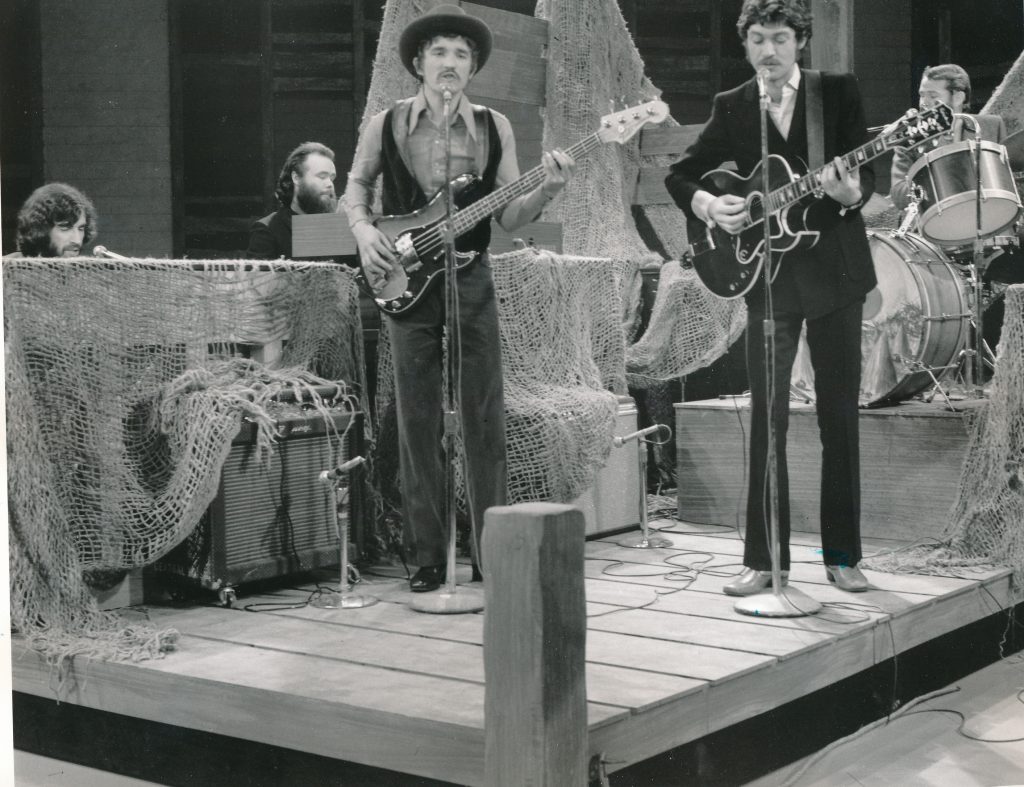 Canadian-American roots rock group "The Band," consisting of J.R. "Robbie" Robertson (guitar), Richard Manuel (piano, drums, vocals), Garth Hudson (organ, horns) Rick Danko (bass, vocals) and Levon Helm (drums, mandolin, vocals), came together under the guidance of American Rockabilly singer Ronnie Hawkins at the end of the 1950's. Hawkins first hired Levon Helm before he relocated to Toronto, where he gradually recruited the other four musicians to form his backing unit, named the "Hawks." Ronnie Hawkins and the Hawks toured the states until late 1963, at which point the backing musicians split from Hawkins to continue on their own as "Levon and the Hawks."
Once on their own, the group rose to prominence in 1965 when they came to the attention of Bob Dylan.  Hired as Dylan's backing group for his 1965-66 world tour, they helped Dylan transform his sound from acoustic folk music to electric rock and roll, which ultimately created a lot of controversy.
They continued to collaborate with Dylan throughout 1966, recording together at a rented house in Woodstock, NY, known as "The Big Pink."  These sessions were heavily bootlegged, and were eventually released as The Basement Tapes. At the same time, The Hawks, now calling themselves "The Band," were recording a large number of original songs and becoming a well-recognized group across the country.
On November 2nd 1969, The Band appeared on The Ed Sullivan Show for the first and only time. Ed Sullivan introduced them by saying "Here are the new recording sensation for youngsters, The Band!" That night they opened the show and performed their hit "Up on Cripple Creek."
Just a few years earlier they could have only dreamed of getting an invitation to perform on The Ed Sullivan Show, like their mentor Bob Dylan did in 1963.  However, Bob Dylan never actually performed on The Ed Sullivan Show.  He famously walked off the Sullivan stage after network censors rejected the song ("Talkin' John Birch Paranoid Blues") he planned on singing.
Even though they only performed one song, The Band was a hit that night. "I want to tell you how delighted we are with you," Sullivan told them after their appearance.
The Band continued to tour and record. In 1976, the original formation of The Band ended its touring career with an elaborate live ballroom performance featuring other musical celebrities. This performance was immortalized in Martin Scorsese's 1978 documentary The Last Waltz.
Subsequently, Levon Helm recorded six albums as a solo artist, and acted in movies like "Coal Miner's Daughter" and "The Right Stuff."  Robertson also found work in Hollywood, assembling soundtracks and directing, and pursued a sporadic solo career.  Rick Danko was the first member of The Band to release a solo record in 1977, and later worked in a trio called Danko/Fjeld/Andersen.  Hudson recorded solo records, and became an in-demand studio musician.
The original band members, without Robertson, regrouped and began touring in 1983. In 1986, Richard Manuel, sadly committed suicide in a Florida motel room following a performance. The surviving members continued as The Band and in 1993 released Jericho, their first album of new music in sixteen years. In 1994, they were inducted into the Rock and Roll Hall of Fame.  At the ceremony, Hudson, Danko and Robertson performed together, but Helm chose to skip the event.
In December 1999, Rick Danko died of heart failure.  On April 19th 2012 Levon Helm passed away after a long battle with throat cancer at the age of 71.
Rolling Stone magazine wrote on the group's biography page that "The Band's classic work turned in earthy and mystical albums built on rock-ribbed, austerely precise arrangements and songs that linked American folklore to primal myths." Indeed, The Band will always be remembered for putting rock and roll back in touch with its roots.
The Band's performance on The Ed Sullivan Show is available on Ed Sullivan's Rock & Roll Classics DVD Sets.