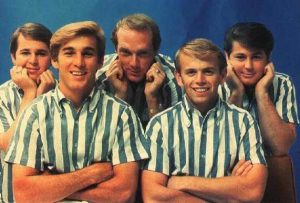 After a career spanning a half-century, The Beach Boys have solidified a legacy as one of America's first and finest rock bands.  Formed in 1961 by brothers Brian, Dennis and Carl Wilson, their cousin Mike Love, and friend Al Jardine, the famous quintet have since gone on to record 28 albums, achieve the most U.S. top 40 hits by any band in history, and be inducted into the Rock and Roll Hall of Fame.  The band appeared twice on The Ed Sullivan Show performing their classics "I Get Around," "Wendy," "Do It Again," and "Good Vibrations."
On September 27, 1964, The Beach Boys took to the Sullivan stage for the first time to perform "I Get Around" and "Wendy".  Accompanied by a trio of hot rods and a crowd of screaming fans, the band knocked out a legendary performance that would be remembered for decades to come.  The groups' harmony was unprecedented and their command of the stage effortless.  In total sync with one another, Mike Love broke out into a small jive during Carl Wilson's rocking guitar solo in "I Get Around," a great moment between passionate musicians.  It was a tremendous event, one that showcased the groups' talent and ability to write and perform iconic material together.
Four years later on October 13, 1968, the band reappeared on the show to perform "I Do It Again" and "Good Vibrations."  This time captured in color, the band returned strong with two more memorable performances, despite the absence of Brian Wilson.  It was during this period that Brian withdrew from the band due to personal health issues. His brother Carl, along with several others in the band, began writing and producing more material to fill the creative void left by his departure.  The Sullivan performance experimented with many visual elements including green screen and kaleidoscopic effects.
Along with the band's Rock and Roll Hall of Fame induction in 1988, they were also chosen for the Vocal Group Hall of Fame in 1998, received the Grammy Lifetime Achievement Award in 2001, and were ranked #12 on Rolling Stone magazine's list of the 100 Greatest Artists of All Time in 2004.  While The Wilson brothers are no longer involved with the band, remaining members Mike Love, Al Jardine and Bruce Johnston continue to tour around the world under The Beach Boys name.