Do you remember where you were on February 9, 1964 when the Beatles stepped out onto the Ed Sullivan Show to make their U.S. television debut?  Whether you were one of the teenage girls screeching in the studio audience or a kid watching from the television set in your family living room it is hard to forget that seminal moment in television history when John, Paul, George and Ringo introduced us all to Beatlemania.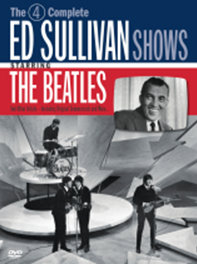 Nearly 50 years after the four landmark live performances of The Beatles on "The Ed Sullivan Show," those legendary appearances are now available worldwide on DVD with "The 4 Complete Ed Sullivan Shows Starring The Beatles." The DVD set includes the four unforgettable live Ed Sullivan Shows that the Beatles appeared on in 1964 and 1965.  These are the complete one-hour Ed Sullivan Shows as they aired and include many other legendary performers from the world of music, comedy, sports and Broadway.  Enjoy the live performances of hit songs "She Loves You," "I Want to Hold Your Hand," "Ticket to Ride," "Yesterday," "Help!," "I Saw Her Standing There," "All My Loving" and many more.  Along with performances of 20 Beatles' songs (of which 7 were #1 hits), viewers will also enjoy bonus material including rare clips and interviews of the Fab Four.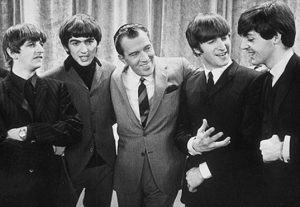 The star power of the Beatles matched with the national institution that was "The Ed Sullivan Show" created an unforgettable moment in music and history.  These nationally televised Beatles' performances helped pave the road for future British Invasion bands including the Rolling Stones, The Dave Clark 5, The Animals, Herman's Hermits and Freddie and The Dreamers.
Whether or not you were one of the 73 million people who tuned in that Sunday evening back in 1964, you can now own a piece of television history with this DVD set.