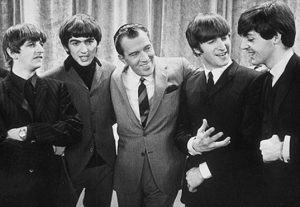 On this day 47 years ago, The Beatles made their first live American television appearance on The Ed Sullivan Show.
In the weeks leading up to the historic performance, The Beatles had already hit number one on the U.S. charts and the anticipation surrounding their arrival from England had not been seen around The Ed Sullivan Show since Elvis Presley in 1956.
When the Beatles landed at New York's JFK Airport on February 7th, 1964, they were met by hoards of reporters and screaming fans. The Beatles would spend the next two days cooped up at The Plaza Hotel, as fans posing as hotel guests tried to sneak in and catch a glimpse of the band. CBS was flooded with requests for tickets, even Walter Cronkite and Richard Nixon called in to try and score tickets for their daughters to that week's Ed Sullivan Show! Ed actually had to announce during the prior week's show, "Coincidentally, if anyone has a ticket for The Beatles on our show next Sunday, could I please borrow it? We need it very badly."
At 8 o'clock on February 9th 1964, 73 million people gathered in front their TV sets to see The Beatles' first live performance on U.S. soil. That evening, 60% of the televisions turned on were tuned in to The Beatles on Ed Sullivan.
The Beatles performance on Ed Sullivan was unforgettable. They opened with "All My Loving" to the screeches from teen-aged girls in the audience. The Beatles then followed that hit with Paul McCartney singing "Till There Was You," before wrapping up the first set with "She Loves You." The hour-long Ed Sullivan Show broadcast concluded with The Beatles singing two more of their hits, "I Saw Her Standing There" and "I Want to Hold Your Hand."
It should be remembered that just 77 days prior to The Beatles' appearance on Sullivan, President Kennedy had been assassinated. By now, the country was ready for some much needed diversion, and it came in the form of these four young lads from Liverpool. February 9th, 1964 has become one of the important moments in television history, and nearly fifty years later, people still remember exactly where they were the night The Beatles appeared on The Ed Sullivan Show.
For a copy of the February 9, 1964 show and all The Beatles appearances on Ed Sullivan check out The 4 Complete Ed Sullivan Shows Starring The Beatles.