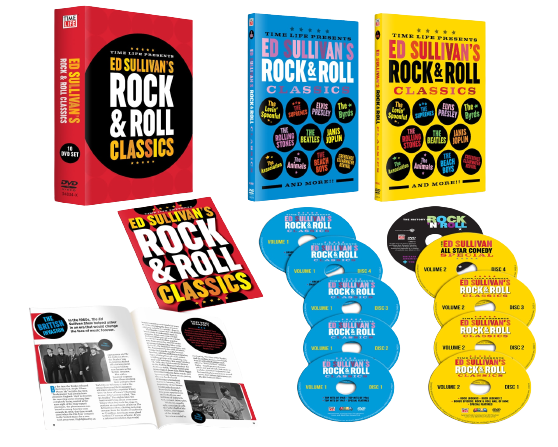 From 1948 to 1971, The Ed Sullivan Show welcomed thousands of performers from around the world to its stage.  Some talent performed only once, while others made multiple appearances during the show's incredible 23-year run. To pay homage to this amazing show and its acts we'd like to announce the Ed Sullivan's  Rock & Roll Classics box set, presented by Time Life. This box set is made of up 10-DVDs featuring 128 live, uncut performances from the biggest music stars that graced The Ed Sullivan Show stage. 
"…hours of music you either remember lovingly or are going to happily discover for the first time" – Yahoo Entertainment
This box set includes many of the top performances of the 20th century from Elvis Presley, The Beatles, The Rolling Stones, The Supremes, Janis Joplin, the Band, Buddy Holly, Stevie Wonder, The Byrds, and dozens more.
In addition to the performances, the set also contains many in-depth and never-before-released full interviews from "The History of Rock 'N' Roll" documentary series. The interviews include David Crosby, Gladys Knight, James Brown, Jerry Lee Lewis, Michelle Phillips, and Herman's Hermits Peter Noone.
"Ed Sullivan doesn't need to be inducted into the Rock Hall of Fame since Ed Sullivan's Rock & Roll Classics is a Rock Hall of Fame all to itself." –  Inside Pulse
Another addition to the box set is 'The All-Star Comedy Special.' This special includes performances by some of the funniest iconic comedians including Flip Wilson, George Carlin, Joan Rivers, Phyllis Diller, Rich Little, Richard Pryor, Rodney Dangerfield, and many more.
Last but not least, to supplement the box set is a collectible, full-color 36-page booklet jam-packed with archival photos and fascinating facts about the show and the timeline of events during the show's 23 year run. 
"Just about everybody who was anybody in the music world gets their moment in Ed Sullivan's Rock & Roll Classics." – Parade
For our special readers and supporters, we'd like to give you a unique promo code: EDFAN, which you can use at checkout for 10% off. Don't forget to get your box set now while supplies last!
Available here: https://timelife.com/products/EdSullivan