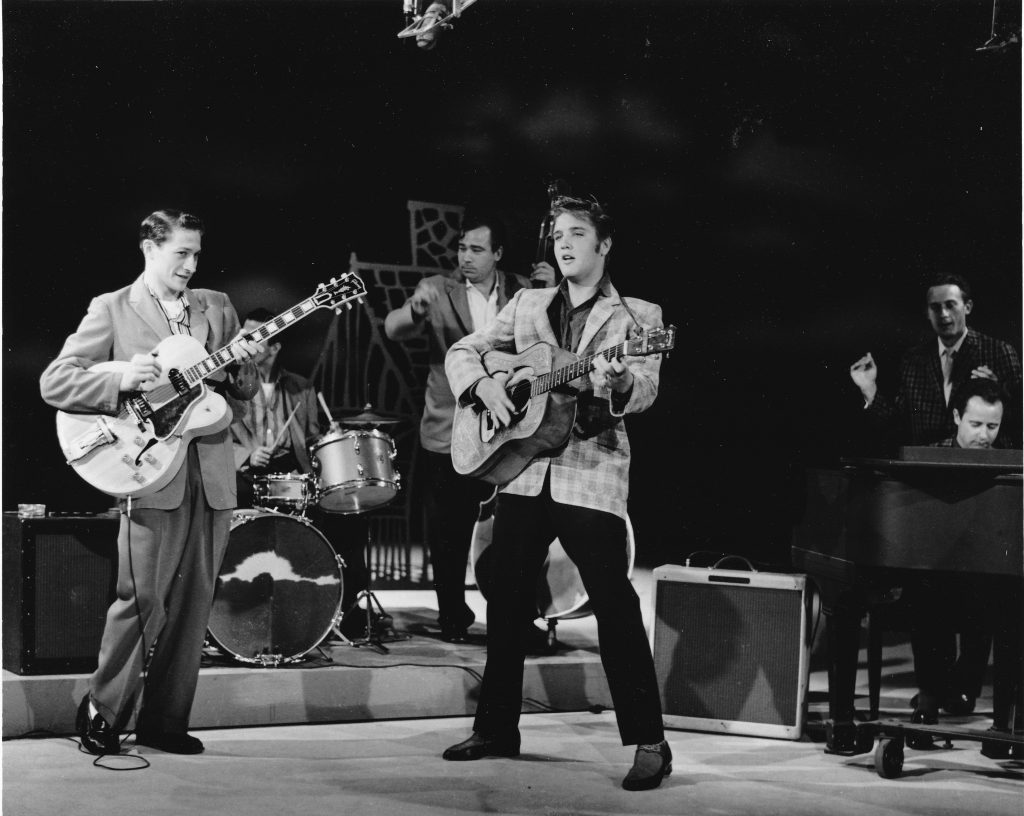 Elvis Presley, who will always be known as the "King of Rock and Roll," first caught the attention of millions of fans worldwide when he appeared on The Ed Sullivan show on September 9th, 1956.
By the time of his first appearance on Ed Sullivan, Presley was riding high on the success of his song "The Heartbreak Hotel" and had already made several TV performances.  However, it was not until his debut on The Ed Sullivan Show that his fame and popularity really took off.
Elvis' first performance on The Ed Sullivan Show was watched by over 82% of the television viewing audience at the time. Not only did Elvis make his way straight into their living rooms, but he also left an indelible imprint on their hearts.  With the help of this breakout performance, Elvis revolutionized the musical tastes of many Americans and changed the entertainment scene forever.
Elvis' energetic performances challenged the conservatism of the time while captivating millions of youngsters across America.  Elvis was strongly influenced by his surroundings and local soul music.  As a child, he developed a deep love for gospel music when he attended church at the First Assembly of God with his parents.  When he was given a guitar on his 11th birthday, he taught himself how to play the instrument and looked upon gospel singers for further inspiration. By the time he was 20 years old in 1955, he had already gained fame in the South.
Elvis' live performances were an amalgamation of country, gospel, R&B and the newly developed music genre of rock and roll. It was at this time that Elvis had managed to impress Dutch born Colonel Tom Parker, who was a famous music promoter.  At that point of time, Elvis' producer was Sam Phillips.  Colonel Parker soon got RCA to buy Elvis' contract for a whopping sum of $35,000.
On January 27th, 1956 Elvis Presley released his first single "Heartbreak Hotel" and followed up by releasing his self-titled album two months later. Both "Heartbreak Hotel" as well as his debut album attained incredible success. Presley was first nationally showcased on Tommy and Jimmy Dorsey's Stage Show, where he made six appearances and achieved national presence.
After he successfully acquired national popularity, even Hollywood wanted a piece of him and he went on to sign two movies. Shortly afterwards Parker booked him for two appearances on the Milton Berle Show. Hundreds of sailors cheered on excitedly as Elvis filmed his first appearance on the show aboard the flight deck of the USS Hancock in San Diego.
For his second performance on the Milton Berle show, Presley performed his hit "Hound Dog," which drove the teens wild, but both adults and the press were thoroughly appalled. Many adults were outraged by his bumps and grinds as well as his gyrating hips. For this reason, Ed Sullivan initially refused to book him on his show as he wanted to distance himself from the harsh criticism that Presley was receiving.
However, Presley still managed to work things out to his advantage by appearing on NBC's new Steven Allen Show. Once again Presley performed "Hound Dog," but this time he was conservatively dressed. Thanks to Presley's appearance, Allen's show beat Sullivan's weekly ratings. The rivalry between the two spurred Sullivan to book Elvis for three appearances for an outrageously high sum of money at the time.
Unfortunately, a month before Elvis appearance on The Ed Sullivan Show, Ed suffered from an almost fatal automobile crash that left him hospitalized for weeks. Because he was unable to recover from his injuries quick enough, it was the British actor Charles Laughton, who hosted Presley's debut performance on The Ed Sullivan Show.  That night, 60 million viewers tuned in excitedly as Elvis performed "Don't Be Cruel" and "Love me Tender."
Elvis lived up to his reputation by gyrating and moving his hips which once again attracted controversy. When Elvis appeared for the second time on The Ed Sullivan show on October 28th, 1956 it was Ed Sullivan himself who hosted him. On this occasion, viewers were treated to a head to toe sight of Elvis performing "Love Me Tender", "Don't Be Cruel" and "Hound Dog."
This performance also earned the wrath of certain sections of society as his effigy was burnt by huge crowds in Nashville and St Louis. The press too had unkind things to say about his dance movements. Rock and Roll began to receive harsh and negative criticism for its bad influence on the American youth. Yet despite the criticsm, Presley's fan base continued to grow.
Elvis went on to make his third and final appearance on The Ed Sullivan Show on January 6th 1957, where Sullivan impressionist Will Jordan, ventriloquist Arthur Worsley and a rising comedienne, Carol Burnett were also guests that night.
By that point, Elvis' sensual hip swaying and gyrations had garnered enough criticism from all across America, and therefore CBS producers decided he ought to be shot from the waist up only. "Too much," "When My Blue Moon Turns To Gold Again," and a gospel favorite, "Peace in the Valley" were some of the songs that he performed that night along with "Hound Dog" and "Don't Be Cruel."
Following this performance, Ed Sullivan stated the incredible potential and talent he saw in Presley. He also wished him all the best for his future endeavors. Presley humbly accepted all the praise heaped upon him.  Ed Sullivan's endorsement was paramount and further validated Elvis to a wide audience.
Elvis would ultimately become the most popular solo artist in the history of entertainment. Today, even 35 years after his death, Elvis continues to be a cultural sensation and a global phenomenon and his stepping stone to success was undoubtedly the three appearances that Elvis made on The Ed Sullivan show.
Author's Bio: Bill Murray is an entertainment guru who comes up with something new and informative with every article. He also writes for DISH Network Satellite TV.