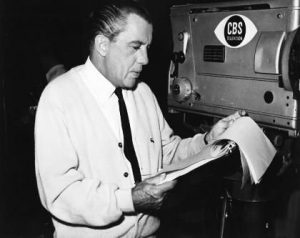 This coming Monday marks the 40th Anniversary of the last live telecast of The Ed Sullivan Show.  On March 28, 1971, Ed Sullivan took to the stage in The Ed Sullivan Theater for the last time as the host of the country's most popular variety show.
The Ed Sullivan Show began in 1948, when CBS hired Sullivan to host its first variety show endeavor called The Toast of the Town.  This was a new show format that combined vaudeville with television and was nicknamed "vaudeo."  Toast of the Town debuted on June 20, 1948 with Sullivan assembling a show that included Dean Martin and Jerry Lewis, Rodgers and Hammerstein, a pianist, a ballerina, a troupe of crooning firemen and a boxing referee whose next gig was the Joe Louis-Jersey Joe Wolcott match.  
Toast of The Town got off to a rough start with sponsors threatening to pull their advertising, but soon the weekly show took hold and became a major ratings success.  In 1955, the program was re-named "The Ed Sullivan Show" after its host and would maintain that title throughout the rest of the show's 23 year run.
Towards the end of that long run, with the country divided by the Vietnam War and polarizing values, The Ed Sullivan Show format didn't appeal to the wide range of demographics like it used to. Rival shows in the same timeslot like The Walt Disney Show and The F.B.I. were gaining momentum.  CBS felt Ed Sullivan was a vestige of an older generation, and in an attempt to appeal to a younger audience canceled the show.  Because there was no notice of cancellation, Sullivan's landmark program ended without a series finale.  Ed, who wanted to see the show reach its 25th anniversary, was heartbroken about the sudden cancellation.
During its 23 year run, The Ed Sullivan Show changed the landscape of American television. Sullivan's stage was home to iconic performances by groundbreaking artists from just about every genre.  To this day the name Ed Sullivan and all he accomplished still reverberates in television history. 
Although it has been 40 years since the last live airing, we can still enjoy The Ed Sullivan Show and its timeless performances through over 1,045 hours of archival footage.  For show performances by your favorite artists check out our Ed Sullivan DVD Collection.