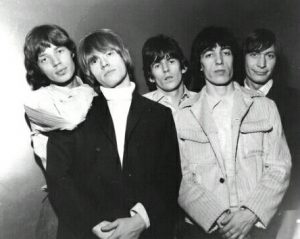 On October 25, 1964, just over eight months after The Beatles historic performance, The Rolling Stones made their first appearance on The Ed Sullivan Show.  The bad boys of rock n roll were fresh of the release of their third album  "12 X 5" and they knew there was no better way to promote it to an American audience.
As Ed introduced the band to screaming fans the curtain rose to reveal The Rolling Stones taking their place on stage. The band kicked the night off with the Chuck Berry classic, "Around & Around," and a young, shaggy-haired Mick Jagger danced across the stage to the girls' delight. The screams lasted throughout the entire song, continuing even after it finished and the curtain had dropped. Ed attempted to introduce the next act, but the sustained shrieks muffled his attempts. He slowly grew impatient and had to tell the audience to be "Quiet!" multiple times.
The Rolling Stones came back to close that evening's show with their hit, "Time Is on My Side." Once again, Mick Jagger had to sing over the shrieks of the raucous and unruly crowd. The performance put Jagger's charisma on full display.
Following the song, Ed prodded the audience, "Come on, let them hear it!" Sullivan ended up getting more than he bargained for as the crowd of youngsters screamed all the way through his chat with Jagger and his announcement of the following week's guests. That evening's show brought The Rolling Stones national attention and helped generated over one million dollars in ticket sales for the band's fall concert tour.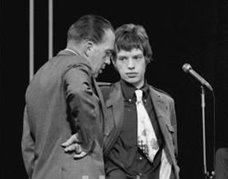 Although The Rolling Stone's first performance on The Ed Sullivan Show was great for the band's popularity as well as for CBS's ratings, Sullivan was reticent to book them again. Following The Stones' first performance, Ed supposedly declared, "I promise you they'll never be back on our show. It took me 17 years to build this show and I'm not going to have it destroyed in a matter of weeks." He had had enough of how worked up the crowds had become, and he thought the band was unkempt. When the Stones' manager tried to change Sullivan's mind he was sent a response from Ed reading, "We were deluged with mail protesting the untidy appearance—clothes and hair of your Rolling Stones. Before even discussing the possibility of a contract, I would like to learn from you, whether your young men have reformed in the matter of dress and shampoo." Whatever was said in response to that note worked as The Rolling Stones were back on The Ed Sullivan Show stage several months later.   All in all, The Rolling Stones went on to make  6 appearances on The Ed Sullivan Show.