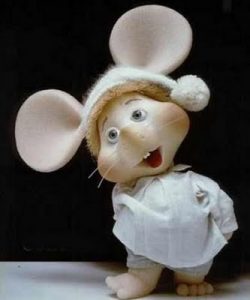 When people talk about The Ed Sullivan Show the conversation almost always reverts back to Elvis Presley's 1956 appearance watched by 60 million viewers, The Beatles first US live television performance on February 9, 1964 and, shockingly enough, the little Italian mouse named Topo Gigio.
It was on December 9, 1962 when Topo Gigio crossed the Atlantic Ocean and made his first appearance on The Ed Sullivan Show.  Prior to appearing on The Ed Sullivan Show, Topo Gigio was a character on an Italian and Spanish children's puppet show in the late 1950's and early 1960's. The producers of The Ed Sullivan Show decided to bring on the little Italian mouse named Topo Gigio to try make the show and the host more engaging for children (The Wonderful World of Disney had just moved to Sunday nights in 1961 and CBS felt the threat of losing their younger viewership).  While the producers got the desired effect as Topo Gigio captured America's hearts became a staple of The Ed Sullivan Show, they could have never expected that the little mouse puppet would go on to become one of the show's most memorable acts.
Topo was created by a group of Italian puppeteers.  It took four people to move Topo Gigio's 10" body as the little mouse walked around stage, rolled his eyes, sang Beatle's songs and kissed Ed Sullivan goodnight. His creator, Maria Perego of Milan, Italy, controlled his legs with her fingers and opened and closed his mouth with her other hand using rods.  Actor Giuseppe Mazullo voiced Topo (Joan Rivers actually wrote Topo Gigio's early acts) while two other puppeteers moved his arms.  They all dressed head to toe in black to remain hidden behind a black curtain.  The little mouse was so lifelike, even an impressed Sullivan once stated, "When he's on my arm, I actually feel that he's a living thing, and that I'm talking to somebody.  I've never had that feeling before with any puppet or dummy."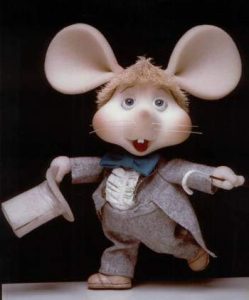 Topo Gigio was a regular on The Ed Sullivan Show from his first appearance in 1962 to the end of the show's run in 1971. Upon closing out the final episode and asking Eddie to "Keesa me goo'night!" one last time, Topo Gigio went on to appear in magazines, animated cartoons and even his own full length motion picture. To this day the little mouse is still a pop icon in Italian and Spanish cultures. Topo Gigio is one of the most famous puppets in history so it is only fitting that his home was on the most famous variety show in history.
For more charming antics of the adorable mouse named Topo Gigio, check out the Ed Sullivan Show Topo Gigio DVD .