Black History Month is an annual observance to remind America to celebrate and discover the integral role that Blacks have played in our country. When it came to giving talented Black artists a platform, most would agree that The Ed Sullivan Show was that very place. In celebration of this important month, we'd like to dive into the history of the show and shine the spotlight on some of the legendary performers that graced the Sullivan stage.
Since 1948, Ed Sullivan was presenting Black entertainers long before it became popular and uniformly accepted. Sullivan not only changed the landscape of American television by giving a platform to many Black performers, but the show also served as a form of encouragement for the civil rights movement at the time, demonstrating the power of positive race relations and social equality. While others were too scared to take that risk, Sullivan welcomed it with no hesitation.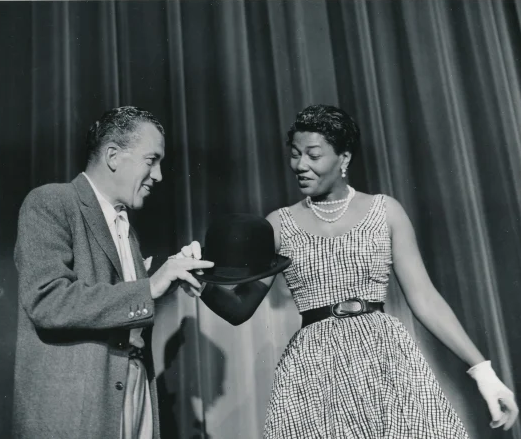 ​​Not everyone was so easily convinced. The show received many irate letters from viewers after Sullivan kissed Pearl Bailey on the cheek, shook hands with Nat King Cole or showed affection towards Sarah Vaughn. An Alabama advertiser even told newspaper readers to stop watching The Ed Sullivan Show. Ford Motors threatened to pull their sponsorship and remove The Ed Sullivan Show from airing in the South. Southern gas stations also refused to serve car owners who drove Ford, Lincoln and Mercury models that Sullivan promoted.

None of this negativity deterred Sullivan as he only contracted more and more Black artists to perform on his show from all around the world. Many fans of the show recall the superstars that made appearances including The Jackson 5, Motown acts like The Supremes and The Temptations, Stevie Wonder, and Johnny Mathis, and Ray Charles, the list goes on. The Ed Sullivan Show included Black artists and performers of every genre and every level of fame. From opera singers Leontyne Price, Shirley Verrett and Marian Anderson to vocalists Ella Fitzgerald, Leslie Uggams, Mahalia Jackson, Harry Belafonte and Clara Ward and her gospel singers. Renowned bandleader Count Basie performed on the show countless times along with jazz legends Duke Ellington and Louis Armstrong.
In addition to music, the show booked comedic legends, Richard Pryor and Flip Wilson and world star athletes including Jackie Robinson, Joe Frazier, Jesse Owens and Muhammad Ali. At one point Hollywood actors started making appearances like Dorothy Dandridge and Greg Morris. Civil rights activist Coretta Scott King made an appearance showing the nation that it is important to use all platforms to make a positive change. While on stage she honored her late husband by mentioning his last public words "the dream, the confidence, the hope for America was still alive."
The remarkable list of talented Black artists who appeared on the show is a who's who in entertainment. Ed Sullivan defied the ignorant attitudes of the time and promoted diversity in living rooms throughout the country. Ed Sullivan upheld these same values of equality in his everyday life. He formed close friendships with many of the Black artists who came on his show, including lifetime bonds with Louis Armstrong (Ed was a pallbearer at Armstrong's funeral), and Bill "Bojangles" Robinson (Ed covered all the expenses for the legendary dancer's Harlem funeral). These amazing performers demonstrated that anyone with talent regardless of their background can achieve their goals when given an opportunity. February is a month of celebration for those who've not only impacted the country, but also the world with their activism and accomplishments.
Please remember to subscribe to our YouTube channel & check our Black History Month playlist for more historic performances!